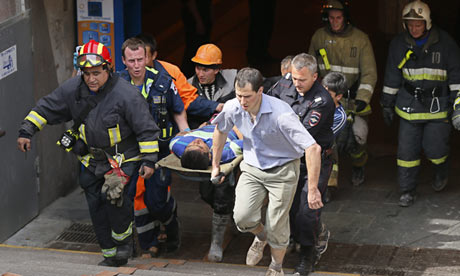 "Russia's generosity appears to follow strategic rather than commercial interests, says Jaime Suchlicki, a Cuba expert at the University of Miami. Mr. Putin, he said, was interested in obtaining a berth for Russia's fleet at the port of Mariel which opened earlier this year on the island's north coast.
"Russia also wants to put a space tracking station in Cuba, which can double as an electronics listening facility aimed at the U.S.," Mr. Suchlicki said.
The port, financed by Brazil, is seen by Havana as crucial to its economic future, as it seeks to accommodate the larger ships expected to pass through an expanded Panama Canal. The sleepy town of Mariel was the site of the 1980 exodus that saw 125,000 Cubans leave the island for the U.S."
"The debt forgiveness is the latest step in a Cuban-Russian rapprochement. For decades, Cuba depended on the former Soviet Union, which provided billions of dollars in aid, mainly in the form of subsidized oil exchanged in payment for high-price Cuban sugar. After the U.S.S.R. collapsed in 1991, the Cuban economy plunged, with the island's gross domestic product contracting by at least 35%.
As Soviet subsidies disappeared, Cuba entered a "special period" of scarcity and hardship, which forced then-President Fidel Castro to grudgingly allow the use of U.S. dollars on the island as Havana scrambled to survive.
Since 1999, Cuba has largely depended on Venezuela, which sends nearly 100,000 barrels of subsidized oil products daily and grants other economic benefits worth at least $6 billion."
"Each step of President Xi's swing through Latin America is expected to highlight China's upperhand. His tour begins here in the Brazilian coastal city of Fortaleza for a meeting of the BRICS (Brazil, Russia, India, China, and South Africa). The group of emerging powers is expected to announce a new development bank and currency reserve pool primarily funded by China – underscoring the nation's outsized influence in the group. The bank will aim to be a global alternative to the World Bank and International Monetary Fund.
After the BRICS summit, Xi is to launch the China-Latin America forum in Brasilia and then visit Argentina and Venezuela – the largest recipients of Chinese financing in all of Latin America and the Caribbean. His last stop will be in Cuba. Xi's visit follows his Latin American and Caribbean trip last year to Mexico, Trinidad and Tobago, and Costa Rica.
China lent $15 billion to the region last year, up four-fold from 2012, though down from $37 billion in 2010, according to the
China-Latin America Finance Database
. The investment has helped reduce the region's reliance on the United States and western financial institutions, but some observers and officials worry China's growing sway in the region is creating a new dependency."
"China has already established considerable influence as a top trade partner and financier for many countries in Latin America," says Margaret Myers, director of the China and Latin America program of the Washington-based think tank Inter-American Dialogue. "But if plans for the BRICS bank and reserve pool are any indication, China isn't stopping there."
»
Full text: President Xi's joint written interview with media from four Latin ... - GlobalPost
»
China's Xi begins 2nd trip to Latin America, in sign of expanding role - Columbus Ledger-Enquirer
»
US, Germany vow cooperation despite espionage spat
»
Eric Holder: Racial animus toward Obama
»
New Book Exposes Attorney General Holder's Abuses of Power - National Legal and Policy Center