Published on Jul 20, 2014
Homeland Security chair Rep. Michael McCaul (R-Texas) thinks President Obama needs to put more pressure on Vladimir Putin.
Divers off the coast of Mexico save a sea turtle that became tangled in rope.

Special thanks to Colin Sutton & Cameron Dietrich who freed the turtle and shared their footage with us.
An endangered turtle trapped in fishing nets showed his thanks to a life-saving kite surfer by returning to give him an emotional hug.
Heartwarming footage shows Cameron Dietrich, who'd been spear fishing off the Mexican coast, spotting the distressed creature bobbing up and down.
With rope wrapped around one of its front fins, the animal was unable to paddle.
After carefully slicing away the rope, Puerto Rican Dietrich gently sent the critter on its way into the clear blue waters.
But the grateful beast then slowly circled back around to his rescuer and - after stopping just inches from his face - appeared to hold out a fin to say thanks.
Filmed by Colin Sutton, the GoPro clip was uploaded to YouTube earlier this month.
It's since gone viral with more than 1.6 million views.
Published on Jul 19, 2014
The Islamic State group in Iraq has issued an ultimatum to Christians and Muslim minorities to leave Mosul.

They captured the city last month at the start of their offensive and the Iraqi army have been unable to dislodge them.

Al Jazeera's Omar al Saleh reports on the many families living in fear of persecution.
МОСКВА, 20 июл — РИА Новости.
Президент России Владимир Путин в понедельник посетит ОАО "Ракетно-космический центр "Прогресс" в Самаре, сообщила пресс-служба Кремля.
"Глава государства посетит ОАО "РКЦ "Прогресс", где ознакомится с работой и новыми образцами продукции предприятия по созданию, производству и эксплуатации ракет-носителей среднего класса", — говорится в сообщении.
Президент также проведет совещание по социально-экономическому развитию региона, в котором примут участие руководители крупнейших областных предприятий в сфере нефтепереработки, автомобилестроения, авиационной отрасли и жилищного строительства, добавили в пресс-службе.
"Морской старт"
Ожидается, в ходе визита на предприятие будет затронут вопрос, связанный с продолжением программы "Морской старт" (Sea Launch) по запуску космических кораблей из акватории Тихого океана.
Сотрудничество с Украиной и США в рамках этой программы сейчас оказалось заморожено. Однако источник в космической отрасли сообщил РИА Новости, что производство украинских ракет-носителей "Зенит 3SL" для "Морского старта" можно при необходимости наладить на российских предприятиях, а сам плавучий космодром перевести из американского порта базирования Лонг-Бич во Владивосток. По его словам, эту ракету можно начать выпускать при участии ЦСКБ "Прогресс", Центра имени Хруничева и "Красмаша".
Кроме того, "Прогресс" может быть задействован в работах по проекту создания нового сверхтяжелого ракетоносителя. Как сообщил ранее глава Роскосмоса Олег Остапенко, есть "прекрасное предложение по РКК "Энергия", по Центру имени Хруничева и по ЦСКБ "Прогресс". При этом он не исключил, что это будет "комплексный проект".
"Ракетной отрасли РФ необходимо глубокое реформирование"
Член-корреспондент Российской академии космонавтики имени Циолковского Андрей Ионин
: "Без очень глубокого реформирования российской ракетно-космической отрасли не обойтись, реформа назрела давно, еще десять лет назад, и о ней нужно уже не говорить, а начинать. Основания для реформы — истощение кадрового капитала в отрасли, а также ее неэффективная структура".
Читайте подробнее >>
"Амбиции великой космической империи более не подкреплены надежным фундаментом"
Обозреватель РИА Новости Константин Богданов
: "Это называется утрата способности поддерживать высокотехнологическую инфраструктуру, доставшуюся в наследство. Причина в том, что космос достался России на птичьих правах, его же весь Советский Союз делал, советские инженеры. Это их отрасль, не наша. Просто амбиции великой космической империи, которой привыкла считать себя Россия, более не подкреплены надежным фундаментом".
Подробнее >>
Cueva del Indio Arecibo Puerto Rico,
Taino Indian Cave, Arecibo Puerto Rico July 1, 2014
Video by: Miguel A. Ramos©2014"Copyright"
AI News Service Puerto Rico
Next Page of Stories
Loading...
Page 2
LIVE UPDATES:
http://www.euronews.com/2014/07/18/mh...
A Malaysian passenger airliner with 295 people on board has crashed in Ukraine near the Russian border, according to unconfirmed reports.
The Interfax news agency quoting an aviation industry source said the Boeing-777 plane was flying from Amsterdam to Kuala Lumpur. Reports say that flight MH17 came down in the Donetsk region.
It is said to have crashed about 50 kilometres from the Russian border, in an area where there has been fighting between Ukrainian government forces and pro-Russian separatists.
The agency says the airliner was shot down at an altitude of 10,000 metres. This information has not been confirmed.
A Russian aviation industry source told Reuters that the airliner did not enter Russian airspace when it was expected, but crashed in eastern Ukraine.
Interfax quotes an adviser to the Ukrainian Interior Ministry as saying that all 295 people on board the plane are all dead.
euronews: the most watched news channel in Europe
Subscribe!
http://www.youtube.com/subscription_c...
euronews is available in 14 languages:
https://www.youtube.com/user/euronews...
In English:
Website:
http://www.euronews.com/news
Facebook:
https://www.facebook.com/euronews
Twitter:
http://twitter.com/euronews
Google+:
http://google.com/+euronews
VKontakte:
http://vk.com/en.euronews
Por
InterNewsService
– 4:12 pm
Un pescador que había sido reportado desaparecido el pasado miércoles, fue encontrado este viernes a eso de las 6:37 de la tarde por tres jóvenes ciclistas, quienes después de asistirlo dieron parte a las autoridades, informó hoy la Policía.
El pescador José Antonio Montero Rosado, de 53 años, fue localizado en el barrio Indios, sector Playa Ventana, en la parte posterior de la Tropical Fruit, conocido como Los Mangos en Guayanilla.
Montero Rosado, quien se hallaba desaparecido desde el día 16 de julio, fue localizado por tres jóvenes ciclistas, Ero Troche Ortiz, Carlos Rodríguez Cruz y Omar Baleno Rodríguez, quienes le dieron de comer y le suplieron agua al tiempo que informaron a la Policía del distrito de Guayanilla.
Al lugar se personó el sargento Gerardo Martínez en compañía de los agentes Miguel Rodríguez Candelario y Héctor Báez Irizarry junto a una unidad de Emergencias Médicas Municipal, que le brindó los primeros auxilios.
Posteriormente, el pescador fue transportaron al Hospital Metropolitano de Yauco, donde fue atendido por el doctor Morales, quien diagnosticó insolación y deshidratación.
Aunque la condición del hombre es estable, se le dejó hospitalizado en observación.
Inter News Service (INS) es una agencia de noticias, fundada por el periodista Nelson del Castillo y que tiene su base en San Juan de Puerto Rico.
By
InterNewsService
- 10:25 a.m.
The National Boricua Convergence (conabo) organization today warned the governor Alejandro García Padilla and the dome of the Popular Democratic Party (PPD), que performs Their convention this weekend in San Juan, for breaking its election Commitment to the people to hold a Status Assembly This Year.
Conabo Spokesman, Luis Toro Goyco, Accused the president and the leadership of PPD aside his pledge to accept the U.S. Congress "a handout of $ 2.5 million and ordered to hold another plebiscite inconsistent, in Which Both President Barack Obama and Congress hands like Pilate" be washed.
Such action, According to Toro Goyco, alienates the ruling party and its president 54 percent of the people who said "clearly your vote in November 2012 does not want to live under colonial ELA and waiting for action to change the status and the other to group of 'ñangotaos.' "
He Accused ñangotados the PDP industry, led by the governor García Padilla, had misled the country With the false promise of Assembly Refuses to Comply Status now.
Governor Garcia Padilla Announced this week holding a plebiscite in four years With the definitions of status for Puerto Rico to the United States Shall accept, que will determine the U.S. Department of Justice.
As part of the consultation process, the Puerto Rican governor accepted the allocation of $ 2.5 million Allocated by President Obama to the State Election Commission (EC) to educate people In this regard.
The governor Recalled That since 62 years ago, When the Commonwealth (ELA) was established, Puerto Ricans have failed to introduce changes in Their Relationship with the U.S., so this is a good opportunity to Promote to "ELA developed" that, Among Others, Their can Provide solutions to economic and financial problems.
That said Goyco Toro In this scenario "can not sit back, we must be clear That Among the sovereignist, statesmen (annexation) we want independence and decolonization in Puerto Rico, (we are) more than 900,000 voters."
García Padilla alerted and members of the Legislative Assembly That 54 percent of people are aware of your actions and his reelection That Largely depends on the position to assume in relation to projects on the Status of Assembly.
"We reiterate That These PNP (New Progressive Party) who want decolonization can not be fooled with another plebiscite lie, can not allow the hardliners limit the discussion of the status to Which type of ELA will support, discussion must focus on the need for an Assembly of colonial status to solve our problem, "said the Spokesman of the National Convergence Boricua.
A PNP Demands at present Embodiment sector, yes or no consultation statehood, while another stresses the need to request the inclusion of Puerto Rico to the United States as a first step towards full membership as a state 51 of the North American Union.
ELA Soberano Toro Goyco Proposed supporters in the PDP, the Alliance pro Free Association (ALAS) and PROELA, the Puerto Rican Join with Independence Party (PIP), the National Hostos Independence Movement (MINH) and the Union Sovereignty Movement (MUS), as conabo, Arise work together Toward a Status Assembly.
Despite The Toro Goyco proposal, including non-members, the so-called civil society and members of the PNP, not full matches Between Organizations towards an immediate goal beyond Their rejection of the governor's proposal García Padilla
Inter News Service (INS) is a news agency founded by journalist Nelson del Castillo and is based in San Juan de Puerto Rico.
Read the whole story
· · · ·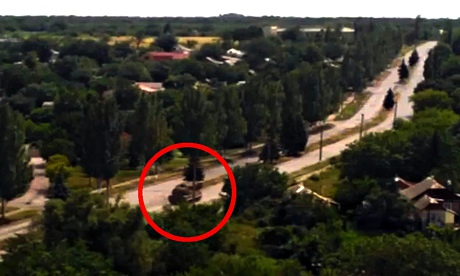 A still from an unverified video said to show a Buk surface-to-air missile battery being driven along a road in eastern Ukraine on 17 July 2014, hours before Malaysia Airlines flight MH17 crashed. Photograph: EMPR/Barcroft Media
Social media
A posting on an account linked to a pro-
Russia
separatist leader in
Ukraine
, on a Russian social network site, claims that militants shot down at least one Ukrainian military plane near the Donetsk region town of Torez. The post has been deleted.
The intercepts
Ukrainian authorities
release a recording they claim is a conversation
between pro-Russia militants admitting to shooting down the plane. A rebel fighter going by the nom de guerre of "Major" is heard telling another comrade called "Grek" that a group of fighters had brought the airliner down. "The plane broke up in the air, near the Petropavlovskaya mines. The first [casualty] has been found. It was a woman. A civilian," he says. At 5.42pm, "Major" acknowledges the plane was civilian: "Hell. It's almost 100% certain that it's a civilian plane."
In another recording, a Russian officer called Igor Bezler is apparently heard reporting on the downing of the jet to his superior in Russian military intelligence, Colonel Vasily Geranin: "A plane has just been shot down ... They've gone to search and photograph the plane. It is smoking."
In a third conversation, a rebel fighter says: "It turned out to be a passenger plane. It fell in Hrabove area. There's a sea of women and children ..."
Satellite detection
Satellite images show a plume of smoke left by a ground-to-air missile. The images help to compile an intelligence analysis shared with the UN security council by US ambassador Samantha Power, which she claimed showed the airliner was "likely downed by a surface-to-air missile, an SA-11, operated from a separatist-held location in eastern Ukraine". The location of the missile launch appears crucial.
"It strains credulity to think [the missile] could be used by separatists without at least some measure of Russian support and technical assistance," said Pentagon spokesman Rear Admiral John Kirby.
Read the whole story
· · ·
WASHINGTON — In their first telephone conversation since revelations of American spying activities jarred relations between the United States and
Germany
,
President Obama
and Chancellor
Angela Merkel
on Tuesday discussed what White House officials described as "ways to improve cooperation" in the wake of the scandal.
The officials described the call as "friendly and cordial," though they provided few details about what was discussed. But a brief description in a White House statement left no doubt that the subject of spying came up.
"The president and the chancellor also exchanged views on U.S.-German intelligence cooperation, and the president said he'd remain in close communication on ways to improve cooperation going forward," the statement said.
Relations between the United States and Germany have been frosty since documents leaked by Edward J. Snowden, the former
National Security Agency
contractor, showed that Ms. Merkel's personal cellphone had been tapped. The recent revelations that the United States had recruited spies in the German defense and intelligence agencies prompted Germany to expel the
C.I.A.
station chief from Berlin.
The potential damage to the relationship between Germany and the United States comes at a time that the two allies are seeking to work together to resolve several international crises.
On Tuesday night, Mr. Obama and Ms. Merkel reiterated their position that Russia must take steps to de-escalate the situation in eastern Ukraine, and agreed to remain "closely coordinated" on measures that could impose further economic costs on Russia, White House officials said.
Mr. Obama and Ms. Merkel also discussed negotiations with Iran about its disputed
nuclear program
, officials said. They noted progress in the talks, saying that it remained "imperative" that Iran take steps to prove it is not developing
nuclear weapons
.
OXFORD, England — SOMETIMES, just sometimes, you should pay attention to annoying things said by tiresome people at worthy conferences.
Although historians should explore those paths not taken, it is nonetheless fascinating to see how the essentials of Mr. Putin's resentment-fueled protector state doctrine were already there in 1994 — even if they were not then buttressed by ideological quotations from Russian thinkers like Ivan Ilyin.
It is impossible to overstate the degree to which this is a threat not just to Russia's Eastern European and Eurasian neighbors but to the whole post-1945 international order. Across the world, countries see men and women living in other countries whom they regard as in some sense "their people." What if, as has happened in the past, Chinese minorities in Southeast Asian countries were to be the targets of discrimination and popular anger, and China (where, on a visit this spring, I heard admiration expressed for Mr. Putin's actions) decided to take up the mother country's burden, exercising its völkisch responsibility to protect?
TO make clear why such actions are totally unacceptable, and a grave threat to world peace, we also have to agree on the legitimate rights and responsibilities of a mother country. My British passport still carries the resonant old formula that Her Britannic Majesty's Secretary of State "requests and requires" foreign powers to let me pass "without let or hindrance," and if I got into a spot of local difficulty in, say, Transnistria, I would hope (though not necessarily trust) that he would very earnestly require it. More relevant, Poland has expressed concern for the position of Polish speakers in Lithuania. Hungary has handed out both passports and voting rights in national elections to citizens of neighboring countries whom it deems to be members of the Hungarian people. To pin down what is illegitimate, we have to explain more clearly what is legitimate.
As of Friday, American and Ukrainian officials were saying it was likely that a Russian-made antiaircraft missile had brought down Malaysia Airlines Flight 17, in yet another harvest of sorrow on Ukrainian fields already blood-soaked by history. It was not clear who fired it. But it is hypocrisy on an Orwellian scale for Mr. Putin to maintain, as he did on Friday, that "the government over whose territory this happened bears the responsibility for this terrible tragedy." There is undoubtedly bitter discontent among many self-identified Russians in eastern Ukraine, but the violence of their protests has been stirred by a massively mendacious narrative on Russian television, and their paramilitaries have been supported, to put it no more strongly, by Mr. Putin's Russia — including the presence of members or former members of Russian special forces.
It seems plausible already to suggest that a regular army (whether Ukrainian or Russian) would usually have identified the radar image of a civilian airliner flying at 33,000 feet, while a group made up solely of local militants (even ones with military experience) would not ordinarily have had the technology and skill to launch such an attack without outside help. It is precisely the ambiguous mixtures created by Mr. Putin's völkisch version of the "responsibility to protect" that produce such disastrous possibilities. He subverts and calls into question the authority of the government of a sovereign territory, and then blames it for the result.
So if an obscure deputy mayor starts sounding off in alarming terms at some conference you are attending, my advice is, Wake up. Of course, most such ranters do not rise to the top. But when they do, their ideologies of resentment may be written out in blood.
Read the whole story
· · · ·
Next Page of Stories
Loading...
Page 3