Next Page of Stories
Loading...
Page 2
Next Page of Stories
Loading...
Page 3
MARIUPOL, Ukraine — The morning routine begins promptly at 8:05 at Public School 68, with a round of calisthenics followed immediately by the daily shelling drill.
A bell clangs on the loudspeaker, and unsmiling children pour out of classrooms in perfect formation, knees bent, heads down, squatting along the thick corridor walls far from any windows, hands clamped over their ears.
"They don't think it's something funny," said Elena Klemanchuk, whose fourth graders huddled in the gloomy hallway near a mural of a girl skipping rope. "They take it very seriously. You need only look around to understand why."
"You can feel a fear and anxiety in the air," said Yuri Hotlubey, the mayor. "People are coming up to me all the time, especially elderly people. They are worried that Mariupol is next to be attacked."
"Before it happened, everybody told us we had three lines of defense and we were perfectly safe," said Victor Perkov, the head of the school. "But then we were shown that we were not as well protected as we believed."
Ukrainian military officials said on Tuesday that national guard units had begun an offensive against rebel positions near Mariupol. A spokesman for one volunteer unit, the Azov Battalion, claimed that it had captured the small towns of Shirokino and Pavlopol just outside the city.
The fighting continued around Debaltseve as well, with the rebels claiming that they had surrounded the city while the Ukrainian Army insisted that the battle was not over. In a new wrinkle, artillery shells fell 50 miles to the north at Kramatorsk, which had not seen any fighting in months but where the government has a sizable military base.
Mariupol is a bustling port in a strategic location on the Sea of Azov, near the Russian border. The rebels control the territory to the north and east, and Russia controls the Crimean Peninsula to the southwest. Mariupol is the only major obstacle to their realizing a long-held goal of opening a land route between Russia and Crimea and take complete control of the Sea of Azov, and its rich industrial infrastructure. Russia, which denies playing any role in the conflict here, says it has no such intention.
But he and other local military and government leaders said the situation was different now, with a complete ring of defensive lines, rather than just positions on the main roads.
"I feel confident that we have enough troops and enough weaponry in place to successfully protect the city now," Mr. Dzyndzya said.
On an icy stretch of beach just east of the city center, another volunteer group, the St. Mary's Battalion, was holding training exercises, teaching new recruits to move in group formation.
The recruits were in crisp combat gear, but had no rifles. They moved along the beach holding imaginary weapons, like a military version of air guitar. One by one, the fighters jumped over a seaside bench and somersaulted into a prone position on the wet sand, pointing their invisible guns toward a thatched cabana.
The young soldier leading the exercise played a battle theme from "The Lord of the Rings" on his smartphone. A half-dozen black puppies scampered alongside the crawling troops. A trio of civilians watched from nearby, smoking and chewing on sunflower seeds.
"It is a public beach," Vitaly Filipchuk, the headquarters commander for the battalion, said with a shrug.
At a jam-packed meeting at City Hall that morning, civil defense leaders and police officials discussed how they might alert residents in case of a rebel assault in a particular area. The city's siren system, built in Soviet times to warn of a nuclear attack, can be used only citywide, not neighborhood by neighborhood. Suggestions were sought.
Could they use online social networks? What about loudspeakers on cars? Perhaps instructions on what to do could be printed on the backs of utility bills? No decision was reached, and the question was put aside for further consideration.
"We do not have a practice on what to do in the event of an attack," said Mr. Hotlubey, the mayor, after the meeting. "So we have to try to create something."
North of the city, at the last checkpoint before the front lines, Grigory Logvinenko, the checkpoint's commander, stood in deep mud and pointed out the rebel positions about four miles away. He ticked off a shopping list of matériel he hopes the United States will give to Ukraine — updated equipment, more accurate artillery, anti-tank weapons.
"And we would not mind a couple of drones," he said.
At that moment, a woman drove up in a silver Subaru station wagon and waved to the troops. Natalya Radkevich said she came out to the checkpoint once a week. She began unloading containers of homemade borscht, vegetable salad, cookies and candies, sponges, and wet wipes for the soldiers.
"They are our heroes," she explained. "They are the best men in the world."
At the Denis Market on the city's east side, named for the owner's son, the crowds were sparse. This was the market that was hit in January, and signs of the shelling are still evident in the battered roof, the piles of broken glass and the new bricks shoring up the hammered walls.
More than 70 percent of the shops in the marketplace remain closed, according to Vadim Yedvokimov, the owner. At least half the neighborhood's residents have fled.
Will the market come back? "Of course," he said with a sad smile. "We are going to join Europe."
Across the street, a crew of sign painters was refreshing the markers that point the way to the nearest bomb shelter.
Ms. Klemanchuk, the fourth-grade teacher, said she was at the school on the Saturday morning the market was hit, leading an orientation group of preschoolers, all 5 years old.
"They were very scared," she remembered. "Many of them were crying. I tried to calm them down. I said, 'No, it's not real, it's just a game.'  "
She paused and took a deep breath, looking down the dark hallway at the children squatting on the floor with their ears covered.
"But they said, no, they did not believe me," Ms. Klemanchuk continued. "They said it was not a game. They knew. You see, it was not their first shelling."
Read the whole story
· · · · ·
"You cannot give in," he added. "Russia only respects the language of strength. Nothing else works."
Mr. Sedelmayer, 51, speaks from experience. He has known Mr. Putin, 62, since the Russian president was an obscure municipal bureaucrat in St. Petersburg in the 1990s, when the Kremlin seized the newly renovated offices there of a security company headed by Mr. Sedelmayer.
Today, Mr. Sedelmayer is the rarest of victors against strong-arm Kremlin tactics, having recently wrested millions of dollars in compensation after a 20-year legal fight that he said was replete with trumped-up charges of tax evasion, veiled threats and repeated warnings to back off.
"I think this is the first time the Russians have been forced to pay up to a private claimant," Mr. Sedelmayer said, savoring his success in extracting from Russia more than twice the compensation he sought when his struggle began in the 1990s.
Moscow's dogged, and ultimately very costly, battle to avoid bowing to a lone but persistent German businessman — detailed in numerous court documents — shows the extent to which the Kremlin will stubbornly pursue even a seemingly counterproductive strategy in the name of defending its national interests.
Still, after fighting about 140 different cases with Russia since 1996, Mr. Sedelmayer believes that over the long run, sustained pressure can work against the Kremlin.
He and Mr. Putin were friendly in their St. Petersburg days. Under an arrangement brokered by Mr. Putin, Mr. Sedelmayer's now defunct security company, SGC International, equipped and helped train a SWAT team for the St. Petersburg branch of the post-Soviet K.G.B.
On Mr. Putin's 42nd birthday in 1994, the German even sent Mr. Putin a gag gift of four electronic listening devices, and received a note back expressing thanks "from one professional to another."
But in December 1994, the Kremlin issued a decree that ordered Mr. Sedelmayer to hand over his company offices on Kamenny Ostrov, an island in St. Petersburg, for which he had a 25-year lease.
After the decree, Mr. Putin, then the city's deputy mayor, promised to do what he could to smooth the conflict, but left no doubt that his ultimate loyalty was to the Russian state and the opportunities it offered for his own career advancement, the businessman said.
"He told me: 'I cannot go against the government. I still want to make a career in Russia,' " Mr. Sedelmayer recalled.
Mr. Putin's stance paid off handsomely. Pavel P. Borodin, the head of President Boris N. Yeltsin's property department and the driving force behind the expropriation, hired Mr. Putin in 1996 to help manage a vast portfolio of assets, including Mr. Sedelmayer's seized compound, which was turned into a state guesthouse.
At the time he got the job, Mr. Putin was out of work, having left the city government following elections that unseated his boss, Mayor Anatoly A. Sobchak, and he looked set to fade into oblivion. Instead, Mr. Borodin put Mr. Putin on a career fast track that would take him to the Kremlin.
Mr. Putin has not commented publicly on the case, one of dozens involving jilted foreign investors who have gone to court since the 1991 collapse of the Soviet Union to try to receive compensation for deals gone awry.
But he has quietly dismissed two officials involved in dealing with Mr. Sedelmayer's claims, including the head of the presidential property department, Vladimir Kozhin, who was fired last year. Another was dismissed and placed under investigation.
In a written response to questions, Viktor Khrekov, the property department's spokesman, said he could not comment on whether the shake-up was related to Mr. Sedelmayer's case. He acknowledged that the German businessman "had managed to get his demands satisfied in part," but added that Russia had "from the start considered and still considers the actions of F. Sedelmayer as unlawful" and would keep fighting against his "judicial blackmail."
From the beginning, Mr. Sedelmayer said, he tried arbitration and negotiation. Rebuffed in his demands for compensation, he took his case to courts across Europe. Russia in turn put up ferocious resistance, court documents show.
Mr. Sedelmayer, who now runs an asset recovery company that advises clients on how to settle international disputes, also forced the sale of a Russian trade mission building in Sweden for $1.5 million but Moscow filed a complaint claiming that the sale violated international law, delaying distribution of part of the proceeds to Mr. Sedelmayer.
"It makes no sense, but they just don't give up, even if it only hurts them more," Mr. Sedelmayer said, referring to a blizzard of countersuits by Moscow in an effort to reverse its losses. "They are still going now."
Russia's efforts to avoid paying have backfired so badly that even some Russian media outlets usually loyal to the Kremlin have voiced dismay over Moscow's handling of the case.
Mr. Sedelmayer said that even as he was baffled by Russia's counterproductive approach, he had often doubted whether he would prevail.
When Mr. Sedelmayer first told Moscow that he would go to court in Germany to enforce the 1998 Stockholm ruling, an official at the Kremlin's property department phoned his Russian-born wife at their Munich home and warned that Russia would "deal with" her husband if he did not stop demanding payment.
Mr. Sedelmayer complained that this amounted to a physical threat, an accusation that drew a tart response from another property department official, Sergei N. Bolkhovitin. In a July 2003 letter, Mr. Bolkhovitin derided the accusation of threats as "unethical" and explained that the official who had called Mr. Sedelmayer's wife merely wanted to make clear that "the Russian Federation will take all necessary steps to protect its interests, using absolutely lawful and legal means."
Mr. Bolkhovitin insisted in the letter that Russia had never refused to pay compensation and had issues only with how much to pay and how to pay it. This assurance was followed by more than a decade of legal trench warfare to avoid paying anything.
When a German court in 2006 first ordered the sale of Russian property in Cologne to enforce payment of the 1998 Stockholm award, Moscow responded by accusing Mr. Sedelmayer of bilking Russia out of $65 million through unpaid taxes from his long-defunct St. Petersburg business. It offered to drop the claim if he relented.
Mr. Khrekov, the Kremlin property department spokesman, said last week that Russia had already won a case against Mr. Sedelmayer for $65 million in St. Petersburg and was now pressing the claim before a French court. Mr. Sedelmayer dismissed the suit as "frivolous."
Some have managed to get court or arbitration rulings in their favor, but none have had much luck forcing Russia to obey these judgments.
Despite his travails, Mr. Sedelmayer said he still had a soft spot for the Vladimir V. Putin he thought he knew back in the early 1990s — a conscientious and clean bureaucrat who, unlike many of his colleagues, did not ask for bribes.
"Perhaps it was his K.G.B. training or his character, but he could be very likable," Mr. Sedelmayer said. "But he was always like a mirror. He would basically reflect what you wanted to see."
Read the whole story
· · · · · · ·
"The Americans are trying to draw the Russian Federation into an interstate military conflict, to achieve regime change through the events in Ukraine and to ultimately dismember our country," said Nikolai Patrushev, head of the Kremlin's security council.
The start of such arms supplies would be "one more confirmation that the US is a direct participant in the conflict," Mr Patrushev added, warning that if Washington took this step, the conflict would "escalate only further".
Mr Patrushev is one of Mr Putin's closest associates — a former head of the FSB intelligence agency that succeeded the KGB, and one of the security officials with whose help the president runs the country.
Dmitri Trenin, head of the Moscow Carnegie Center, an arm of the US think-tank, is in the former camp. A move by the US to supply the Ukrainian army with lethal weapons would be viewed as "a real game changer" by the Russian government, he said.
Last weekend, Dmitry Kiselev, one of Mr Putin's chief propaganda managers, once again invoked the threat of nuclear warfare. Commenting on the US debate about arming Ukraine on his news show on state television, Mr Kiselev read out the paragraph in Russia's military doctrine which states that the country reserves the right to use nuclear weapons not only in response to a nuclear weapons attack but also if in a conventional weapons conflict "the very existence of the state is under threat."
Mr Kiselev shocked the world 11 months ago when he warned that Russia was still the only country capable of "turning the US into radioactive dust". Since then, dire warnings about war have become standard fare in Moscow. As relations with the west have soured during the Ukraine crisis, foreign policy officials have repeatedly asked western counterparts if they really wanted to risk a third world war, or "the unthinkable" event of a nuclear stand-off.
At the same time, Russia has increased the frequency of what foreign military officials call "nuclear signalling'" - testing missiles and the readiness of its nuclear arsenal infrastructure. "It is a fact that any theoretical conflict between Russia and Nato would have to turn nuclear very quickly, because that's the only sphere where they can still match Nato," said one foreign defence official in Moscow.
The Moscow Times, an English-language independent newspaper, on Tuesday quoted an unnamed adviser to the defence ministry as saying that US weapons supplies to Ukraine could provoke Russia to take its stand-off with the west beyond the region.
Yet even as Moscow toughens its rhetoric, it is still pursuing a deal with Kiev to stop the fighting. At a summit in Minsk on Wednesday with Ukrainian president Petro Poroshenko, German chancellor Angela Merkel and French president François Hollande, Mr Putin will try to revive the collapsed ceasefire agreement signed in Minsk last September.
"The most important thing that supplying Ukraine with lethal arms would do is make the war more bloody," said a Russian defence expert who asked not to be named. "You cannot turn the battle around because no matter how many weapons you put in there for Kiev, Russia can put in more, and faster," he said.
The government defence adviser said that Washington's calculus was to drive up the number of dead Russian soldiers and thus make it harder for Mr Putin to secure political backing for his course at home.
Defence experts said the main difficulty for Moscow would be that a drawn-out, larger war in Ukraine makes it more vulnerable on other flanks, such as the restive North Caucasus and Central Asia. "There are just not enough Russian soldiers to fight a war of attrition in Ukraine," said one foreign defence expert in Moscow.
At the same time, Russian analysts also warn that western guns for Ukrainian soldiers would give Mr Putin a new weapon. "It would help him win his propaganda war, because finally the US would indeed be what he has claimed it to be: a party in the conflict," says Alexander Golts, an independent defence analyst.
Russian analysts add that Washington would have to send military officers along to train Ukrainian soldiers on the weapons. "Otherwise it will be just a waste," said Ruslan Pukhov, head of the defence think-tank CAST.
Copyright
The Financial Times Limited 2015. You may share using our article tools.
Please don't cut articles from <a href="http://FT.com" rel="nofollow">FT.com</a> and redistribute by email or post to the web.
Read the whole story
· · · ·
In response to the sharp drawdown in the Western military presence in Afghanistan and neighboring countries in recent years, and the expectation that most if not all NATO forces will leave Afghanistan by the end of this year, Moscow has adopted several policies as its Afghan endgame.
First, Russia has been increasing its economic and military ties with Afghanistan, such as by helping reconstruct or re-launch some projects that were started during the Soviet military occupation. As the withdrawal has proceeded over the past two years, Russians have resumed large-scale investments in Afghanistan by modernizing factories, rebuilding cultural centers, and restoring other vestiges of the Soviet occupation era. With their memories of that painful period increasingly overshadowed by more recent tragedies, Afghans have generally welcomed the assistance.
Meanwhile, the Russians have stressed their support for Afghanistan's sovereignty and joined Karzai and other Afghan officials in denouncing NATO whenever the alliance was seen as violating it. For example, although persistently skeptical of the inter-Afghan peace talks, Russian diplomats backed an Afghan-led peace process with the Taliban, in which Western governments would play a subordinate supporting role. Russians' growing influence in Kabul has already brought dividends; Karzai's government was one of the few to support Moscow's Crimean annexation.
Second, the Russian armed forces have been expanding their bases in Central Asia and been providing Central Asian militaries with subsidized training and equipment. In September 2013, Russia negotiated a 15-year extension of the lease to its base at Kant in Kyrgyzstan to 2032. The Russian military has announced plans to approximately double the number of planes based there, which in early 2014 had at least two Mi-8 transport helicopters and eight Su-25 ground-attack planes. The Russian military also retains a seismic station in southern Kyrgyzstan and a communications post and a torpedo testing range in northern part of the country.
Third, Russia has also taken the lead in constructing a regional military alliance, the Collective Security Treaty Organization (CSTO), and has worked with China to develop a regional economic and security structure in the form of the Shanghai Cooperation Organization (SCO). Since 2003, the intelligence, law enforcement, and defense agencies of the member governments have jointly conducted annual "Kanal" ("Channel") operations to intercept drug shipments from Afghanistan through the region's porous borders to markets in the former Soviet Union and Western Europe. In recent years, observers from Iran, Ukraine, the United States, and several European countries have attended these exercises. The CSTO has also established a working group on Afghanistan and has initiated several programs to strengthen the Afghan government's law enforcement and counter-narcotics agencies. CSTO officials, strongly supported by the Russian government, have tried to establish formal cooperative programs with NATO to manage regional security issues, especially narcoterrorism.
Thus far, NATO officials have been reluctant to agree to formalize relations with the CSTO as an institution. The NATO staff and member governments generally perceive the CSTO as a Moscow-dominated institution and worry about reinforcing Russian preeminence in Central Asia by strengthening the CSTO through formal dialogue. They believe that Russian policymakers are trying to establish formal ties between the two organizations to enhance the CSTO's international legitimacy by equating it with a more powerful regional security organization. As a result, NATO officials have continued to deal with the member governments directly rather than through the CSTO.
Fourth, Russia is working with the other great powers to manage Afghan-related events. This policy has yielded mixed results. Relations with the United States and NATO remain strained over Ukraine and other issues. Although NATO leaders have tried to compartmentalize Afghan-related issues, the U.S. regional commanders have indicated that the Pentagon will rely less on Russian logistical help in the future and, due to cost considerations, aim to remove most U.S. equipment from Afghanistan via Pakistan rather than through Russian territory. Despite the Pentagon's wishes, the U.S. Congress has demanded that the U.S. government stop buying Russian helicopters for the Afghan air force after the current contracts expire.
China has resisted efforts by Russia, the West, and the Afghan government to encourage Beijing to provide greater assistance to the Kabul government. China has only recently begun training a few hundred Afghan police officers inside China, and has declined U.S. and Afghan requests to allow ISAF members to send supplies to their military contingents in Afghanistan through its territory. Beijing's stance is partly due to a desire to not antagonize Muslim militants, but it may also reflect Beijing's calculations that China might be able to work out a deal with the Taliban, in which the insurgents would avoid attacking Chinese workers or assets in Afghanistan, or support anti-Beijing terrorists in Xinjiang or elsewhere, in return for revenue from these projects as well as Beijing's tacit acceptance of any Taliban-led regime in Kabul. Like Western governments, Russia has been encouraging China to provide economic and other help to Afghanistan, but the growing Chinese investment in the country that occurred a few years ago has since subsided as Beijing, like everyone else, has balanced exploiting Afghanistan's great economic potential with the country's persistent security dangers.
More broadly, in all these engagement efforts, Moscow has proved unable to overcome divisions among these foreign governments regarding how best to deal with Afghanistan, even among its closest allies. For example, while Russia is trying to beef up its CSTO alliance, Uzbekistan has quit that organization and is promoting a distinct 6+3 plan based on an expanded U.N. role. Meanwhile, China is hedging its bets by preparing to deal with the Taliban through the mediation of its close ally Pakistan. Even though each Central Asian state shares a deep history of political, economic, social, and cultural ties with Kabul (including a multitude of co-ethnics within the nations' borders), each Central Asian government handles its relationship with Afghanistan primarily bilaterally, and often by pursuing diverging policies. India and Pakistan both treat Afghanistan as an arena in which to compete for regional influence against the other. Iran, which partnered with Russia and India in the 1990s to strengthen the Northern Alliance against the Taliban, has also stood aloof from more recent Russian and other joint foreign initiatives in dealing with Afghanistan.
Finally, Russian officials are prudently hedging against a failure of these strategies by developing options to support the re-creation of ethnically based mini-states in northern Afghanistan designed, as in the 1990s, to serve as a buffer between the Taliban, whose strength is in the Pashtun regions of southern Afghanistan, and neighboring Central Asian countries. For example, Russian Defense Minister Sergei Shoigu has suggested creating "territorial formations" within Afghanistan to bolster CSTO border security. In May 2014, Igor Sergun, director of the Main Intelligence Directorate of the Russian General Staff, has said that the Russian military estimates the possibility of Afghanistan breaking up into ethnic enclaves backed by foreign powers at 31 percent.
Russian officials have responded skeptically to President Barack Obama's decision, announced last month, to request that almost 10,000 U.S. soldiers remain in Afghanistan in 2015 and 5,000 the following year, with perhaps half as many NATO troops accompanying them. Russia's U.N. ambassador, Vitaly Churkin, has complained that the new withdrawal timetable was schedule- rather than conditions-based, with U.S. forces ending their Afghan mission in 2015 regardless of the situation on the ground. Yet Russian officials have called on Afghan politicians to renew their Bilateral Security Agreement with the United States so that American troops can remain in Afghanistan after this year. At the May 23- 24 Moscow International Security Conference, the Russian speakers criticized the U.S. military effort in Afghanistan but also reluctantly wanted the Western military campaign against the Taliban to continue beyond 2014. Perhaps the Kremlin is waiting to see whether the next Afghan president will sign the BSA, and whether the Obama administration will actually carry through on its troop proposal or, as with Syria and Iran, dilute it in the face of Afghan or congressional resistance.
Read the whole story
· · · · · · · ·
©ITAR TASS
President Vladimir Putin, left, and Sergei Ivanov, defence minister, visit Russia's GRU (main intelligence agency)
In an anonymous military classroom somewhere in Moscow, 12 portraits in identical tortoiseshell frames stand on a metal bench placed on a dais. In front of each picture is a bunch of six roses, red and pink.
The dead, according to a source who showed the Financial Times photographs of last month's quiet memorial – an individual with intimate knowledge of the Kremlin's intelligence community – were operatives of Russian special forces. All 12 died in Ukraine in recent weeks. Officially, they were all on holiday.
More
On this story
On this topic
IN Europe
First
FT is our new essential daily email briefing of the best stories from across the web
The provenance of the photographs cannot be precisely verified. However, three of the deceased can be independently identified, using separate, open-source images of their training and uniforms, as serving military intelligence commandos.
Two bodies were also among those photographed by a Russian journalist for Novaya Gazeta crossing the Ukrainian border in June. Their truck was labelled "Cargo 200" – the Russian military code word for a transport of dead soldiers being repatriated.
It is a compelling, if circumstantial, fragment of evidence to back up claims Kiev has been making since April. Russia, Ukraine's military chiefs allege, is not just arming separatist rebels in their country's east but is waging an active, covert military campaign there using its own elite special forces and intelligence agents.
Western intelligence chiefs agree with Kiev's assessment of Russian undercover activity, sanctioned by President Vladimir Putin. Serving Russian operatives and special forces are "undoubtedly" operating extensively in eastern Ukraine, one senior UK security official said.
As to who is directing them – and what it may indicate about Russia's intentions – that is also becoming easier to answer.
A handful of pictures gleaned from social media indicate their identity: they show individuals wearing
ratnik
combat gear – sophisticated equipment only introduced by the Russian military this year and available so far only to crack units, or
spetsnaz
.
"[They are] the sort of characters who work with precision, quickly, and then disappear," said a senior Nato military intelligence officer. "It is very difficult to pinpoint where they have been. These are specialist troops. It is a small number of them, a very small number."
[They

are] the sort of characters who work with precision, quickly, and then disappear. It is very difficult to pinpoint where they have been. These are specialist troops. It is a small number of them, a very small

number
- Nato officer
Indeed, while
spetsnaz
forces were
quite visibly deployed in Crimea
before it was annexed, in eastern Ukraine – perhaps because of lessons learned from Crimea – they have been more discreet.
"
Spetsnaz
are like a cross between US Rangers and the British SAS," says Igor Sutyagin, a Russian military and intelligence expert at the Royal United Services Institute in London. "They have a range of uses. They can fight but they are also trained for intelligence work. To establish insurgencies. To control them. To smuggle arms. To wage guerrilla wars."
Mr Sutyagin has documented
spetsnaz
activities in eastern Ukraine using dozens of open-source images and data to build up a picture of their positions and operations.
The use of
spetsnaz
points to one Russian military organisation in particular as running the operation: the GRU, the main intelligence directorate of the general staff. The GRU – a vast security apparatus housed in a building known as the "aquarium" in Moscow and whose logo is a bat, wings stretched over the globe – is emerging as Russia's key agency in its handling of the Ukraine crisis.
The GRU suffered a significant decline in prestige and importance in the early years of Mr Putin's presidency. Russia's other intelligence services, particularly the FSB, were his preferred levers of power. But with the conflict in Russia's "near abroad", GRU's strong-arm tactics have returned to favour. Its director, Lt Gen Igor Sergun – a personal Putin appointee –
was among the first individuals targeted by western sanctions
.
The GRU runs eight ground
spetsnaz
brigades. It also controls a
spetsnaz
unit of paratroopers, the 45th regiment of the VDV – an elite-within-an-elite squad of 700 "blue berets". Two of those pictured in the Moscow funeral service were serving members of the 45th.
In depth
Pro-Moscow separatists in eastern Ukraine have escalated the political turmoil that threatens to tear the country apart
Kiev spy chiefs have compiled numerous other pieces of evidence suggesting the GRU has been the puppet master behind the insurgency. Wiretaps by the Ukrainian security service, the SBU, purport to have recorded numerous calls being made by separatist commanders to GRU handlers.
Igor Strelkov
, the military commander of the self-proclaimed Donetsk People's Republic, is a GRU colonel, according to the SBU.
Most compellingly of all, military analysts say Russian activities in eastern Ukraine are a textbook example of a GRU operation.
Assassinations, arms smuggling, the creation of guerrilla movements led by stooges (known in GRU parlance as
konservy
– canned foods) and the use of special forces operations to support them: these are all well-rehearsed elements of the GRU's covert warfare doctrine.
The agency is almost certainly behind
the huge supplies of arms that are making their way into rebel hands
, according to one western intelligence official. Many of those arms come from GRU stockpiles of "deniable" weapons, such as Polish-made GROM shoulder-launched anti-aircraft missiles. GRU operatives seized those in Georgia in 2008 and have been stockpiling them.
"It is about subversion, it is about espionage with limited use of deniable special forces and the use of deniable proxies," says Nigel Inkster, former director of operations and intelligence for MI6, Britain's foreign intelligence service, and now the director of transnational threats at the think-tank IISS. "It is a war that is never really declared."
Copyright
The Financial Times Limited 2015. You may share using our article tools.
Please don't cut articles from <a href="http://FT.com" rel="nofollow">FT.com</a> and redistribute by email or post to the web.
Read the whole story
· · · · · ·
Since the Ukraine crisis began, the Kremlin has few doubts about the importance of the GRU, Russia's military intelligence apparatus. The agency has not only demonstrated how the Kremlin can employ it as an important foreign-policy tool, by ripping a country apart with just a handful of agents and a lot of guns. The GRU has also shown the rest of the world how Russia expects to fight its future wars: with a mix of stealth, deniability, subversion, and surgical violence. Even as GRU-backed rebel groups in eastern Ukraine lose ground in the face of Kiev's advancing forces, the geopolitical landscape has changed. The GRU is back in the global spook game and with a new playbook that will be a challenge for the West for years to come.
By the start of 2013, the GRU was on the ropes. Since 1992, the agency had been in charge of operations in the post-Soviet countries, Russia's "near abroad." But Russian President Vladimir Putin appears to have seen it as increasingly unfit for that purpose. When the Federal Security Service (FSB), Russia's domestic security agency, was allowed to run operations abroad openly in 2003, one insider told me that this was because "the GRU doesn't seem to know how to do anything in our neighborhood except count tanks." (It may not even have done that very well. Putin regarded the GRU as partly responsible for Russia's lackluster performance in the 2008 invasion of Georgia.) There was a prevailing view in Moscow that the GRU's focus on gung-ho "kinetic operations" like paramilitary hit squads seemed less relevant in an age of cyberwar and oil politics.
The Vostok Battalion makes Moscow's strategy clear: The Kremlin has no desire for outright military conflict in its neighbors. Instead, the kind of "non-linear war" being waged in Ukraine, which blends outright force, misinformation, political and economic pressure, and covert operations, will likely be its means of choice in the future. These are the kinds of operations in which the GRU excels.
This kind of conflict will be fought by spies, commandos, hackers, dupes, and mercenaries — exactly the kind of operatives at the GRU's disposal. Even after the transfer of most Spetsnaz out of the GRU's direct chain of command, the agency still commands elite special forces trained for assassination, sabotage, and misdirection, as Ukraine shows. The GRU has also demonstrated a willingness to work with a wide range of mavericks. In Chechnya, it raised not just the Vostok Battalion but other units of defectors from guerrillas and bandits. The convicted arms dealer Viktor Bout is generally accepted to have been a part-time GRU asset too. The GRU is less picky than most intelligence agencies about who is cooperates with, which also means that it is harder to be sure who is working for them.
Read the whole story
· · · · · · · · ·
Next Page of Stories
Loading...
Page 4
While
Ukraine
continues to sink deeper into chaos by the day, Russian President
Vladimir Putin
has skipped town for a two-day visit to Cairo,
Egypt
. And with him, he brought a special token of his appreciation for his host,
President Abdel Fattah
el-Sissi: a Russian-made Kalashnikov.
As the heartwarming picture circulated this morning, social media was quick to note both the symbolism of the gesture, but also how thrilled Sissi appeared.
The
Russians
have been courting the Egyptians on arms sales aggressively since former President Hosni Mubarak's fall in 2011, and the Egyptians have been eager customers. A preliminary arms deal worth $3.5 billion was reached between the two countries in September, according to the Kremlin, which included MiG-29 fighters and attack helicopters.
Before his arrival,
according to the Kremlin
, Putin told Egyptian state media, "The volume of bilateral trade has increased significantly over the past years: in 2014, it has increased by almost half compared to the previous year and amounted to more than $4.5 billion. Clearly, this trend needs to be strengthened."
He added that Egypt has become one of the most popular vacation destination for Russians and, as the tourism industry at large continues to struggle in Egypt, more than 3 million Russians flocked to Egyptian resorts, nearly 50 percent more than in 2013.
Egypt's government Press Office said President Sissi personally met Putin at the airport Monday night along with his entourage of high-level ministers and officials. It's his first visit to Cairo since 2005, although Sissi was spotted twice last year at the Kremlin.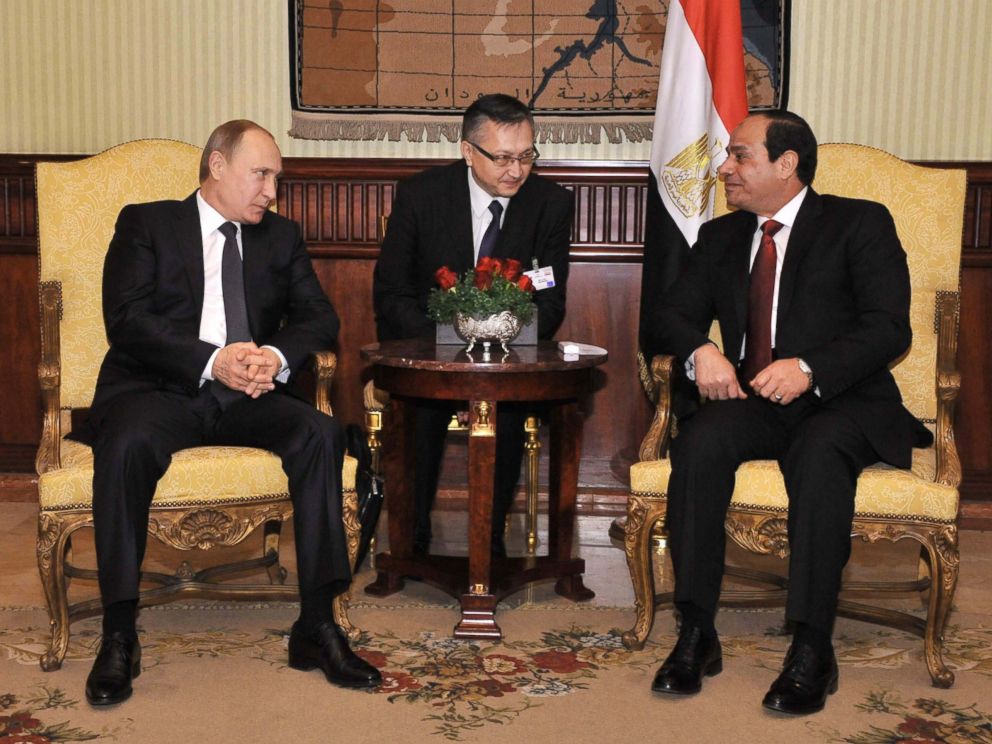 Ahmed Fouad, Egyptian Presidency/AP Photo
PHOTO: Russian President Vladimir Putin and Egyptian President Abdel-Fattah el-Sissi meet at the Cairo International Airport in Egypt, Feb. 9, 2015.
The two had dinner together Monday night and later attended a cultural performance "illustrating Egyptian-Russian relations," according to the government media office.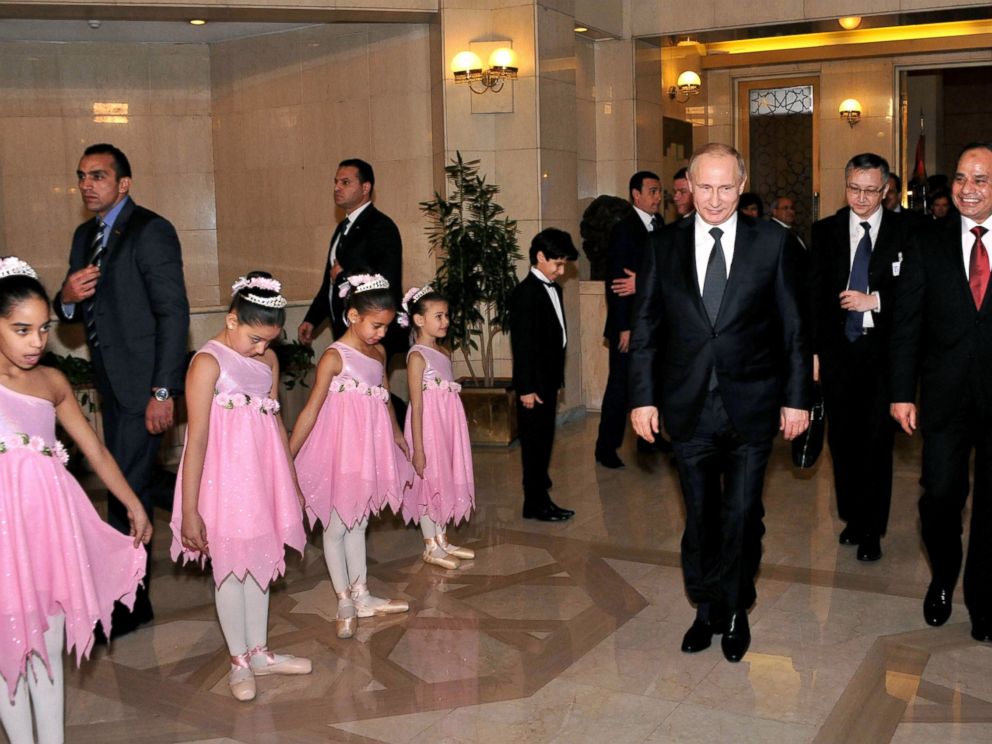 Egyptian Presidency/AP Photo
PHOTO: Russian President Vladimir Putin and President Abdel-Fattah el-Sissi are seen at the Cairo Opera House in Egypt, Feb. 9, 2015.
In the same interview with state media, Putin described Egypt as Russia's "old and trusted partner," adding, "We have once again affirmed that Russia and Egypt share the same determination to further expand relations of friendship and equal cooperation."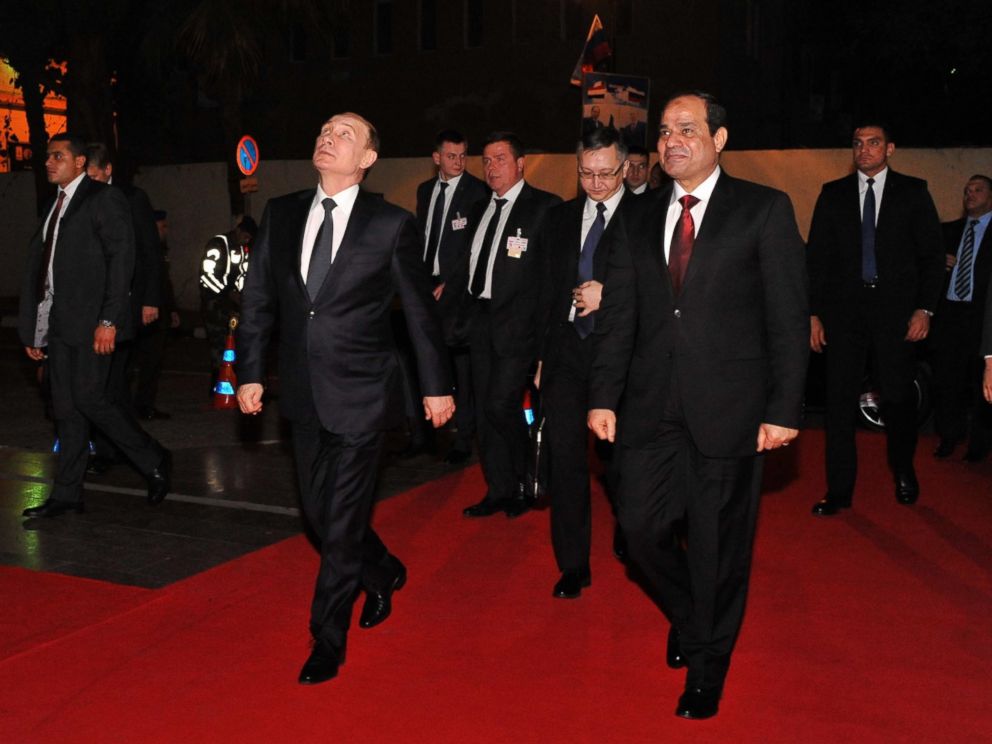 MENA /Anadolu Agency/Getty Images
PHOTO: Russian President Vladimir Putin and Egyptian President Abdel Fattah el-Sisi visit Cairo Tower on Feb. 9, 2015, in Cairo.
The city has been eagerly awaiting Putin's arrival, and posters of the Russian strongman lined Cairo's streets this week.
Before the official meetings today in which the two leaders are expected to sign "a number of agreements," according to the government press office, Putin was feted on the streets with a huge welcome parade.
Read the whole story
· · · · · ·
In the news
... for the shipwreck of the

Costa Concordia

cruise liner and the deaths of 32 people has app.
More news for Costa Concordia
---
---
In-depth articles
Read the whole story
· · · · ·
Published on Feb 10, 2015
On the night of 13th January, at around nine o'clock, the Costa Concordia approached Giglio, sounding its horn in a salute to the Tuscan island's 800 inhabitants.
Captain Francesco Schettino at the helm gave the order that took the vessel outside its authorised course.
At just after twenty to ten, the ship struck rock, tearing open the hull, and a power system failed.
More than 4,200 people were on board. Through the public address system they were told the blackout was due to an electrical…
READ MORE :
http://www.euronews.com/2015/02/10/co...
What are the top stories today? Click to watch:
https://www.youtube.com/playlist?list...
euronews: the most watched news channel in Europe
Subscribe!
http://www.youtube.com/subscription_c...