More radical forces might come to power in Russia
A sudden and
mysterious disappearance of Vladimir Puti
n gave rise to many rumors and versions. Former presidential adviser, Andrey Illarionov reports that in a few days it will be announced about the resignation of Vladimir Putin and the power will be taken by a group of officers and security forces led by the head of the presidential administration Sergey Ivanov.
Illarionov admits that the security forces might come to power after the possible removal of Vladimir Putin and his clique.
Putin's disappearance raises questions of not only about his whereabouts, but about his condition, says Illarionov. He also believes that the Prime Minister Dmitriy Medvedev will be changed by Mr Ivanov. After that, it will be announced about Putin's resignation.
Illarionov hints in his analysis that the changes might bring to power even more radical forces, by naming them the forces of a "big blood."
A spokesman for the Russian President Dmitriy Peskov announced that Putin would visit Kazakhstan next week and denied his illness.
"Sometimes he is more open, sometimes less. But that does not mean he does not continue his tradition of being a workaholic. So it's a continuing tradition, and he has a very busy schedule," –
announced Peskov.
Source: ZN.UA
The participants discussed additional measures to support bank lending of priority economic sectors and regions of the Russian Federation and to ensure the banking sector's systemic stability.
Excerpts
from
Dmitry Medvedev
'
s opening remarks:
The Bank of Russia's Board of Directors has just finished its meeting, during which it made the important decision to reduce its primary interest rate to 14 percent. This should make loans more accessible in different areas of the economy.
We adopted several decisions that allowed us to consolidate the general stability of the banking system. Let me remind you that we doubled the size of the insurance payout on deposits. Now, bank clients can rely on the return of 1.4 million roubles rather than 700 thousand as before, if their bank's licence is revoked.
We also elaborated a system of measures to prevent the bankruptcy of banks by assisting those with liquidity problems.
Revenues from interest on deposits will no longer be taxed if they do not exceed the refinancing rate by 10 percent, as opposed to five percent, as was the case earlier.
We also allowed the National Wealth Fund to put up to 10 percent of its money in junior bonds of Russian banks.
All of these measures have made the market more reliable and stable and retained people's confidence in banks.
During previous meetings, we discussed the increase of capitalisation, notably an asset contribution of up to 1 trillion roubles in the Deposit Insurance Agency (DIA). These funds were supposed to be in federal loan bonds placed in the junior obligations of banks. The relevant laws have been adopted; the Government has issued the relevant acts; the DIA Board of Directors has endorsed the procedure and terms for making such asset contributions and I approved a list of 27 banks that meet the established requirements. They have received proposals on capital top-ups.
Quite recently, the DIA made the decision to sign contracts with the first four banks and it intends to continue this work.
Needless to say, in the first place, support will be provided to banks that are actively lending money to the real economy, industry and agriculture. Our goal is to facilitate access to loans for those enterprises that work in priority areas.
Read the whole story
· · ·
Twitter got a hold of it next, with Russian users tagging posts with #ПутинУмер, or #PutinIsDead with what were clearly Photoshopped, tongue-in-cheek photos from Putin's "funeral."
ADVERTISEMENT
Peskov was also the one to denounce rumors that Putin was ill, saying that he was still working, handing out "handbreakingly" strong handshakes all week.
This rumor was fueled by videos showing numerous helicopters of the Federal Security Service landing at the Kremlin in Moscow. Russia's emergency and defense ministers were rumored to be called back to Moscow from London on Thursday, but that has not been confirmed. Russia is still dealing with the massive political shock of Nemtsov's death and some believe the Kremlin has entered crisis-control mode to rein in control of what could be rogue Putin supporters who carried out Nemtsov's murder.
Read the whole story
· · ·
Новая организация
«Московская народная республика»
постановила задержать лидера Чесченской республики Рамзана Кадырова за терроризм и призыв к террористическим атакам, передает Joinfo.ua со ссылкой на сайт организации.
«Постановление о задержании.
Народный Совет Московской Народной Республики принял решение о задержании международного преступника, так называемого «лидера» чеченских сепаратистов, Кадырова Рамзана Ахматовича, для предъявления ему обвинений:
1. Терроризм, совершенный неоднократно, с применением огнестрельного оружия, группой лиц по предварительному сговору.
2. Международный терроризм.
3. Публичные призывы к осуществлению террористической деятельности», – говорится в сообщении.
«Гражданский корпус военной обороны Московской Народной Республики призывает всех сознательных граждан Москвы и Подмосковья присоединиться к поимке особо опасного международного преступника Рамзана Кадырова. За информацию о постоянном пребывании, перемещениях, связях, контактах с террористическими организациями, правительство МНР обещает вознаграждение, в размере одного миллиона долларов (USD)», – отмечают представители МНР.
«Вознаграждение будет выплачено сразу, после проверки предоставляемой информации – выплата гарантируется. Обращайтесь непосредственно к нашим координаторам в Москве и Подмосковье.
Сразу после введения военного положения в Москве и Московской области 17 марта 2015 года, Кадыров Рамзан Ахматович будет осужден военным трибуналом Московской Народной Республики по законам военного времени или по требованию общественности, передан международному трибуналу в Гааге», – пишут члены МНР.
Напомним,
как сообщалось ранее
, по всей Москве начались массовые стычки московской полиции с активистами "Московской народной республики", созданной недавно.
Read the whole story
· · ·
Российский политолог назвал возможного преемника Путина (0)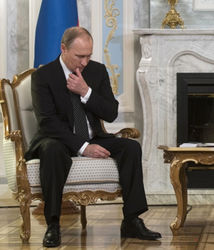 «Наследный кронпринц Дмитрий Анатольевич Медведев».
Белковский отмечает, что со стороны может показаться, что «Медведев выглядит и кажется ничтожеством и карикатурой на лидера». Однако, по его словам, все далеко не так. «Но давайте вспомним, что такими казались многие наследники до того, как они приходили к реальной власти, – и тот же самый Никита Хрущев, который танцевал гопак на даче у Иосифа Сталина. Однако когда наследник выходит на оперативный простор, когда он распрямляется в полный рост, он, как правило, проводит политику, зачастую прямо противоположную линии своего предшественника», – подчеркнул Белковский.
По его мнению, если следующим российским президентом будет Медведев – он станет «анти-Путиным». В частности, он будет вынужден мириться с Западом, потому что иначе не спасти российскую экономику, кроме того, он вынужден будет прекращать войну, так как Россия ее уже не потянет. «В общем, случится то же, что случилось после кончины Иосифа Виссарионовича», – резюмировал российский политолог Белковский, проводя вполне очевидные исторические параллели.
Путин имел достаточно оснований, чтобы «заболеть».
Read the whole story
· · · ·
Next Page of Stories
Loading...
Page 2