Sen. John McCain, R-Ariz., chairman of the Senate Committee on Armed Services, took to the floor on Wednesday and placed the blame for Russia's increased presence in the region squarely with the Obama administration.

"President Obama has sounded retreat across the Middle East," said McCain who has long been a critic of the administration's policy in the region. He added that a series of "decisions or non-decisions" have led to a situation where the U.S. has "confused our friends (and) encouraged our enemies."

"Into the wreckage of this administration's Middle East policy steps Vladamir Putin," McCain said.
The Homs area is crucial to Assad's control of western Syria. Insurgent control of that area would bisect the Assad-held west, separating Damascus from the coastal cities of Latakia and Tartous, where Russia operates a naval facility.




Iyad Shamse, leader of an FSA Syrian rebel group, the Asala and Tanmieh Front, told Reuters: "There is no Islamic State in this area. The Russians are applying great pressure on the revolution. This will strengthen terrorism, everyone will head toward extremism. Any support for Assad in this way is strengthening terrorism."

He put the death toll from the Russian air strikes at 50 civilians, including children.

According to a pro-Syrian government military source, there were "five strikes against five areas in Syria's Homs." He said other areas may have been bombed too.
Market Summary
At 1:43 PM ET:

Oct '15 light sweet crude futures are unchanged at

$45.23

a barrel in Nymex electronic trading. Oct '15 gold futures are down

$11.80

, or

1.05%

, at

$1,115.30

an ounce in electronic trading. Dec '15 corn futures closed down

4.00

today, or

1.03%

, at

385.00

cents a bushel.
MOSCOW — The latest developments as Russia and other nations counter Islamic State militants in Syria. All times local:
7:05 p.m.
The U.S. conducted airstrikes in Syria as planned Wednesday including one near Aleppo, which is in the northwest but not near where the Russians were flying, a U.S. official said.
The official said the Russian officer who notified the U.S. of the strikes said the U.S. should stay out of Syrian airspace and remove any troops it has on the ground working with rebels in Syria.
The U.S. has repeatedly said it has no U.S. military forces on the ground in Syria.
6:25 p.m.
Former CIA director, Gen. David Petraeus, has said he believes Russian President Vladimir Putin's immediate objective in Syria is to solidify the corridor on the Mediterranean coast between Latakia where he has an air base and Tartus where he has a Russian naval base.
As he testified before the Senate Armed Services Committee last week, Petraeus said Putin also wants to help Syrian President Bashar Assad solidify his grip on the country, which has been increasingly challenged in recent months by the Islamic State and other opposition groups.
Petraeus warned against partnering with Russia, Iran and Assad against IS and said the U.S. should deter any action by Russia involving any of the forces backed by the U.S.
"If Russia wanted to fight ISIS, they could have joined the 60-plus member coalition that Gen. Allen has so capably put together and help drop bombs on ISIS. They have some capabilities that would be useful to that fight so this is clearly not what they're up to," he said.
5:50 p.m.
A U.S.-backed Syrian rebel group has claimed that Russian warplanes have hit its positions in central Syria.
The group, known as Tajamu Alezzah, wrote scornfully on Twitter Wednesday that "eradicating terrorism appears to begin with attacks" on its locations in the central city of Latamna in the province of Hama.
The group, which boasts of having TOW missiles, didn't provide specific details on the targets or how it can ascertain the strikes were by Russian jets.
Washington has equipped and trained a number of moderate Syrian rebel groups but most have been crushed by al-Qaida's affiliate in Syria.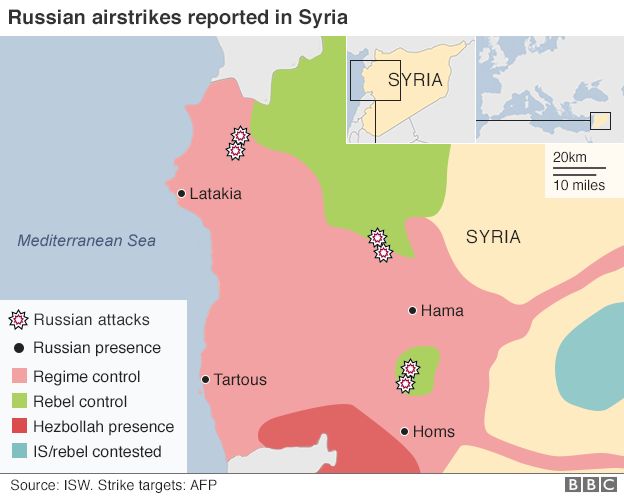 russians in syria 2015 - YouTube
Putin mad - Google Images
Two rival power war rooms are therefore poised at opposite ends of the Syrian
arena – one representing a US led alliance for operations against Assad, and the
other a Russian­ led group which is revving up to fight on his behalf.
Conspicuous in the swiftly evolving Syrian situation is the detailed advance planning
which went into the Russian military buildup and partnerships, and the slow
perception of what was going on, on the part of the United States and Israel.
Tuesday, US Defense Secretary Ashton Carter instructed his staff to establish a
communication channel with the Kremlin to ensure the safety of US and Russian military
operations and "avoid conflict in the air" between the two militaries.
The Russian defense ministry shot back with a provocative stipulation that coordination
with the US must go through Baghdad, an attempt to force Washington to accept
that the two war rooms would henceforth communicate on equal terms.
Russians Conduct Airstrikes in Syrian City of Homs, Where Anti-Assad Forces Are Concentrated - Washington Free Beacon
Afghanistan - 9.30.15
Russia - 9.30.15
Middle East - 9.30.15
Cyber Security - 9.30.15
Iranian arms ship captured - 9.30.15
Defense Bill - 9.30.15
Other News - 9.30.15
9.29.15 Tu
9.28.15 M