"But the retired general, a lifelong bachelor who has said that he does not own a television and has often been referred to as a "warrior monk," is also famous for his extensive collection of books on military history. "Thanks to my reading, I have never been caught flat-footed by any situation," he wrote a colleague in 2003. "It doesn't give me all the answers, but it lights what is often a dark path ahead."...
Mr. McCain said in a statement that General Mattis was "without a doubt one of the finest military officers of his generation and an extraordinary leader who inspires a rare and special admiration of his troops." He added, "America will be fortunate to have General Mattis in its service once again."
-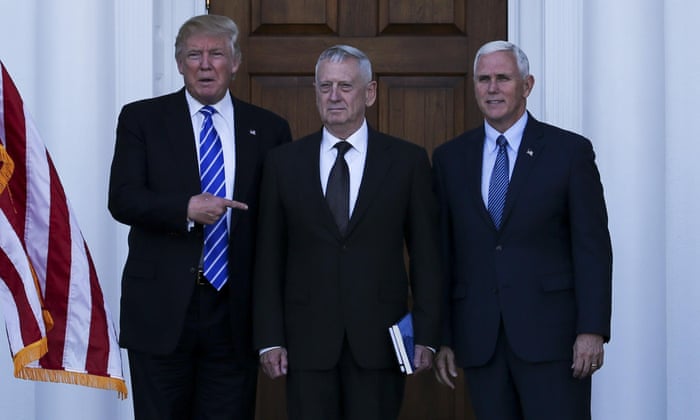 "A now-famous quote has Mattis, then the senior marine in the volatile Iraqi province of Anbar, informing a local interlocutor: "I come in peace. I didn't bring artillery. But I'm pleading with you, with tears in my eyes: if you fuck with me, I'll kill you all."
"The guy ... understands the big picture.
He's an internationalist and he understands engagement.
He also understands the judicious use of military power. He's not looking for a fight but he'll always finish the fight," he said.
While Trump has signaled a warmth to Vladimir Putin, Mattis has criticized "the unfortunate and dangerous mode the Russian leadership has slipped into", warning Nato allies against accommodating "Russian violations of international law".
-
-