2:20 PM 1/30/2017
Police now say only one of the two people arrested after Sunday's terror attack on a mosque in Quebec City is a suspect, with the second man considered a witness.
There are reports that the suspect is Alexandre Bissonnette, a Université Laval student. Police would not confirm that information. Initially, police said two suspects were arrested. But on Monday, the Sûreté du Québec said the second man was a witness.
One of the men was arrested at the scene, while a second called 911 himself and was arrested around 9 p.m., just over an hour after the first 911 calls came in at 7:55 p.m., police said Monday morning during a news conference involving the Sûreté du Québec, the Royal Canadian Mounted Police, Quebec City police and Montreal police.
Quebec City police Insp. Denis Turcotte said the man who called 911 waited for officers to arrest him not long after the shooting at the Centre Culturel Islamique de Quebec in Quebec City's Ste-Foy neighbourhood.
"He was armed and spoke to us about his acts," said Turcotte. "He seemed to want to co-operate….The suspect said he was waiting for the police to arrive."
10:31 AM 1/30/2017
M.N.: This looks and sounds like the Persian style type of the imagery, the mindset, and the metaphorical sets, which does not necessarily means that it is indeed Persian by origin, but it could be. Which does not exclude, negate, or explicate the main performer's "double song - double game" symphony, as mentioned below, with the other players as the second or third voices.
No time for "numbness". This will not stop, and possibly, will only get worse (especially if gasoline is poured into fire actively). A decisive but the multiprong, including the diplomacy, strategy is needed. "What is to be done", that's the question, and the efficient answer must be found.
"Update
: The
suspects have been identified
by Radio-Canada, and … expect some throat-clearing on this one (via
Christine Rousselle
):
According to Radio-Canada and LCN, the two suspects in Sunday's terror attacks on a mosque in Quebec City are
Alexandre Bissonnette
(Double Song - Double Game, Double Doorbell; Double Doorbell, Two way street, also possible reference to Shakespeare's "bisexual" sonnets, other interpretations are also possible, e.g.: "double bottom bag", etc.)
and
Mohamed Khadir."
(Arabic: numbness khadar خدر); a reference to PTSD numbness.
(noun
خدر
numbness, anesthesia, stupor, stupefaction, torpor, creep
تخدر
numbness
فقدان الحس
numbness, anesthesia, impassivity, anaesthesia)
Alexandre Bissonnette: 5 Fast Facts You Need to Know
"About 17 minutes after the first call of shots fired at the mosque, of the two suspects, Alexandre Bissonnette, called 911 to police he felt guilty about what he had done, La Presse reports.
Bissonnette, a 27-year-old Quebec native, told the 911 dispatcher he was going to shoot himself. About 8:45 p.m., he told police he wanted to be arrested.
Police have not yet released details about the suspect's motive for the shooting. He was interrogated after being taken into custody and police are still investigating what led to the attack."
M.N.: It looks like the authors of this actions ("aktivka") are obsessed with with the "bridge issues", "orly" ("the eagles") or not (why does this self-praise need so many self-mentions?)
"After calling 911, the suspected shooter parked his car, a Mitsubishi, on the Island of Orleans bridge, and officers from the Tactical Intervention Group arrived and took him into custody, the newspaper reports.
A handgun and two rifles that looked like
AK-47s
were found in his car, according to La Presse.
The bridge remained closed early Monday morning, the newspaper said."
"A search is still ongoing for a
possible third suspect [the "manager", the "hypnotist"? Is also consistent with the other occurrences, e.g. San Bernardino, and others]
, though police do not believe there is a third man involved, at least not directly.
"The investigation has not ended," Quebec City Police spokesman Étienne Doyon, told the Toronto Star. "We will be trying to verify if there is a third or fourth or any other person involved. We're not ruling out that there may be other suspects.""
M.N.: Can you imagine this boy yelling "allahu ahbar" and shooting children, of his own will, only to feel overwhelmed with guilt 17 minutes later? Some type of a "hypnosis", just like so many times before? Where is him, and where is the "allahu"?
"A witness told Radio-Canada the gunmen wore masks, the CBC reports.
"It seemed to me that they had a Quebecois accent. They started to fire, and (while) they shot they yelled, 'Allahu akbar!' The bullets hit people that were praying. People who were praying lost their lives. A bullet passed right over my head," said the witness, who asked not to be named. "There were even kids. There was even a three-year-old who was with his father.""
"According to his Facebook page, Bissonnette is from
Cap-Rouge
, Quebec."
M.N.: Also note some persistent obsession with "rouge" - "red" terms and, probably issues, and the need to "cap" on them, or to "cap"-oppose them, which might be a telling sign.
His last public post, on January 20, was a photo of a dog wearing a
Dominos pizza delivery outfit [a reference to the "Pizza-pizda-gate", he wants to deliver this "domino effect" - M.N.]
, with the caption, "I want one! #fridayfeeling."
M.N.: Etc., etc., with the many other references; I cannot go into all of them, this informative publication might have been deliberately "micromanaged".
Mohamed Khadir: 5 Fast Facts You Need to Know
M.N.: Much less is known about this suspect, not even the unequivocally reliable photo could be found, although some "telling references" are present in this article also. The reasonable question to entertain is: were they the gay lovers and were they managed together as a team by the "manager - hypnotist"?
"
One of the suspects
were arrested at the scene, while a second called 911 himself and was arrested around 9 p.m., just over an hour after the first 911 calls came in at 7:55 p.m., police said Monday morning during a news conference involving the Sûreté du Québec, the Royal Canadian Mounted Police, Quebec City police and Montreal police.
They were not known to police and the investigation into a possible motive continues, said superintendent Martin Plante of the RCMP's C Division.
At least one name suggests that the attack wasn't entirely intended to divide people of different faiths, but even that is still a leap until we see some evidence of motive. It's intriguing, though, that one of them called 911 to turn himself in."
M.N.: One thing I want to mention: it makes absolutely no difference if these types of actions are directed at the mosques, or churches, or synagogues; or at the Muslims, Christians, or Jews: the terrorist act is the terrorist act, the rest are just the details, which might be significant only in possibly revealing the motivations, the provocative directions, and the purposes of the act, but not in defining its essence.
_______________________________________________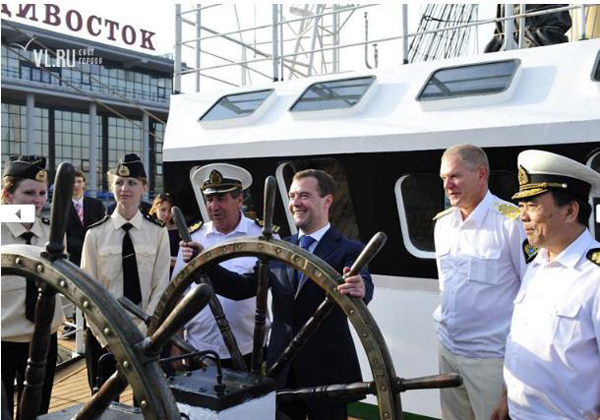 И даже Медведев - рулевой!
Я один только "без руля и без ветрил"...

Дай порулить, Papa!
"А чо, бери, мне не жалко... Такой головной болью рад только буду поделиться!"

А руль где?
У Москве - mosque остался!
Обозреватель
-
Mar 13, 2016
О том, что Московия-Россия - это не Русь, знали не только Карл Маркс, Вольтер и многие другие умы цивилизованного мира, понимали ...
"Ниччо, а ты не ссы. У нас другой руль есть, ещё и лучше: специальные операции. Всем миром править будем. Рассорим Запад с Востоком, устроим им религиозную войну, терроризм разожжём, пусть воюют друг с другом, друг дружку уничтожают и убивают. А мы в сторонке подождём, а когда они друг дружку перебьют, мы лишь останемся, и будем on the top.
Вот он, наш руль, и вот она, наша стратегия! Генштабом разработанная до мельчайших деталей!"
"А что же ты, батя, секреты свои самые заветные так легко раскрываешь, добро своё так легко раздаёшь?"
"А мне ибать! Всё равно я рулю! Я уже рулю!"
______________________________________________________
Quebec mosque attack - Accidents - 1.30.17


______________________________________
Встреча с председателем правления Россельхозбанка Дмитрием Патрушевым
"И опять ты на меня всю энту бочку катишь. Не иначе как и впрямь влюбился, давно и безнадёжно, в свою Альтер Эгу. Угу-Угу... Я же тебе уже объяснял: не я, не я; воля народа, то бишь как его, Совета Безопасности.
Вот чей Papa всем заправляет, и стратегию всю определяет, с него и спрашивай. А я чо? Всего лишь Генеральный Директор, разве они в детали всякие мелкие входят? Я ведь, действительно, аггрегатор всего лишь, стараюся всё хоть как-то вместе держать, чтоб окончательно всё не рассыпалось и, действительно, ...... энтой матушкой вконец не накрылось... Вот ведь оно как!"
Так-то оно может и так, а всё-таки... Круг замкнулся... И спросить не с кого. Как и полагается в лучших домах Лондона и Парижа...
________________________________________