Trump needs a nice and big distraction: "Bomb the Persian Villains into the utter oblivion and bring the brand new day!" But the poignant point is that they are the villains spreading their hidden aggression - Terrorism for the last FOURTY YEARS. The images of the diplomats - hostages are as vivid today as they were then. The Persian Cats definitely need a lesson, and their kittens definitely need a brand new day. And the timing is as good as ever. "Destroy this Nest Of Evil!"
Kremlin: Arms control, Iran on agenda at meeting with Pompeo
Associated Press-4 minutes ago
MOSCOW (AP) — U.S. Secretary of State Mike Pompeo on Tuesday arrived in Russia for talks that are expected to focus on an array of issues including arms ...
"We are very worried about the risk of a conflict happening by accident, with an escalation that is unintended really on either side," said Jeremy Hunt, the British foreign secretary.
The Iranian government has not threatened violence recently, but last week, President Hassan Rouhani said Iran would
walk away from parts of the 2015 nuclear deal
it reached with world powers. Mr. Trump withdrew the United States from the agreement a year ago, but European nations have urged Iran to stick with the deal and ignore Mr. Trump's provocations.
The high-level review of the Pentagon's plans was presented during a meeting about broader Iran policy. It was held days after what the Trump administration described, without evidence, as new intelligence indicating that Iran was mobilizing proxy groups in Iraq and Syria to attack American forces.
As a precaution, the Pentagon has moved an aircraft carrier, B-52 bombers, a Patriot missile interceptor battery and more naval firepower to the gulf region.
At last week's meeting, Mr. Shanahan gave an overview of the Pentagon's planning, then turned to General Dunford to detail various force options, officials said. The uppermost option called for deploying 120,000 troops, which would take weeks or months to complete.
Among those attending Thursday's meeting were Mr. Shanahan; Mr. Bolton; General Dunford; Gina Haspel, the C.I.A. director; and Dan Coats, the director of national intelligence.
"The president has been clear, the United States does not seek military conflict with Iran, and he is open to talks with Iranian leadership," Garrett Marquis, a National Security Council spokesman, said Monday in an email. "However, Iran's default option for 40 years has been violence, and we are ready to defend U.S. personnel and interests in the region."
We write as citizens and foreign policy veterans of two countries that most Americans presume are locked in mortal combat: Iran and Saudi Arabia. In fact, after decades of proxy conflict and frozen ties between our countries, we believe now is the time to explore a new foundation for a lasting peace in our region.
Neither of us is a starry-eyed idealist. We are both hardened realists with distrust for one another, and that mistrust is shared at the top levels of our respective governments. At the same time, we have seen the destructive consequences of crises in which our countries side with one or another government or movement involved in a competition for power — for example in Yemen, Syria, Lebanon, Bahrain or Iraq. While we each blame the other side for this pattern, we agree that the net result has been costly, has eroded the confidence of the people our governments serve, and has wasted incalculable resources and countless lives that should have been used to build a new Middle East, rather than tear it down.
The time for dialogue is now, because the situations in the historic conflict zones are ripe for diplomacy.
First, in Iraq, both Iran and Saudi Arabia have embraced a new government in Baghdad led by a prime minister and a president who are pragmatic and have good ties to both of our countries. This is an important opening we must seize.
Second, the war in Syria has reached a point near an ending, with less violence and the defeat of the Islamic State there. Both of our countries believe Syria's territorial integrity must be maintained. We call for respect of the principle of noninterference in Syria's internal affairs, and respect for the Syrian people's right to determine their own fate.
In Yemen, we disagree about the root causes of the conflict, but we agree that it has ushered in a humanitarian disaster. Both of our countries should support the process being led by the United Nations to end the conflict in the coming months.
Lebanon is now led by a new government and we agree that it is up to the people of Lebanon to sort out their affairs on their own.
Finally, in Bahrain, we both support the country's sovereignty, integrity, democratic aspirations, and stability based on the will of its people.
The bottom line is that these five conflict zones, long sources of contests and misery, appear to be settling into a relatively stable status quo from which we can begin to restore a lasting peace in our region. Although we each accuse the other side of being the source of instability in the region, we know through our own difficult dialogue over many months that the conditions exist for direct and continuous discussions with open channels between our capitals and our citizens. We do not need to agree on everything before agreeing on some things and taking the first, most difficult, steps of dialogue.
Our citizens should be first and foremost in our minds, and the world's. Iran and Saudi Arabia have a combined population of 115 million, nearly a third of whom are under the age of 25. The future is upon us, and our youth will be interconnected whether we like it or not.
Sustainable peace and security require good bilateral relations and regional cooperation between Tehran and Riyadh. Iran and Saudi Arabia have significant differences, but they share common interests in many critical issues, such as energy security, nuclear nonproliferation, and Middle East stability. We hope that instead of widening the gulf between our two countries, our leaders will build on the common ground between our nations, which represent the two main pillars of the Muslim world.
Abdulaziz Sager is the chairman and founder of the Gulf Research Center, based in Jeddah, Saudi Arabia. Hossein Mousavian is a specialist in Middle East security and nuclear policy at Princeton University and a former spokesman for Iran's nuclear negotiating team.
Read the whole story
· · ·
The top U.S. defense official presented an updated military plan to President Donald Trump's senior security aides that includes dispatching up to 120,000 troops to the Middle East in case Iran attacks American interests or escalates work on nuclear weapons, the New York Times reported on Monday.
Citing unnamed administration officials,
the Times said
Acting Defense Secretary Patrick Shanahan presented the plan at a meeting of
Trump
's top security aides on Thursday, with the revisions being requested by aides to National Security Adviser John Bolton.
The plan, according to the report, did not call for a land invasion.
Reuters could not immediately confirm the report. The White House did not immediately respond to a request for comment. The Pentagon declined to comment.
Earlier, a U.S. official said an American military team's initial assessment is that Iranian or Iranian-backed proxies used explosives Sunday to
blow large holes
in four ships anchored off the coast of the United Arab Emirates.
The official said each ship has a 5- to 10-foot hole in it, near or just below the water line, and the team's early belief is that the holes were caused by explosive charges.
Stay up to date: Sign up to our newsletter
Thank you for signing up.
We've got more newsletters we think you'll find interesting.
Click here
Oops. Something went wrong.
Please try again later.
Thank you,
The email address you have provided is already registered.
Close
The team of U.S. military experts was sent to investigate the damages at the request of the UAE, but American officials have not provided any details about what exactly happened or any proof as yet about the possible Iranian involvement in the explosions.
The official was not authorized to discuss the investigation publicly and spoke on condition of anonymity.
An Iranian parliamentary spokesman, Behrouz Nemati, blamed Israel for the tanker attacks on Tuesday, saying "The events that took place in the Emirates were Israeli mischief" without providing any details on what role Israel may have played in the attacks.
Tensions between Iran and the United States have intensified since Trump
pulled out of a 2015 international deal
to curb Iran's nuclear activities and imposed increasingly strict sanctions on Tehran.
Trump wants to force Tehran to agree to a broader arms control accord and has sent an
aircraft carrier and B-52 bombers
to the Gulf in a show of force against what U.S. officials have said are threats to U.S. troops in the region.
Iran has said the U.S. is engaging in "
psychological warfare
," called the U.S. military presence "a target" rather than a threat and said it will not allow its oil exports to be halted.
The Times said among those attending the Thursday meeting were Trump's national security adviser John Bolton, CIA Director Gina Haspel, Director of National Intelligence Dan Coats, and Chairman of the Joint Chiefs of Staff General Joseph Dunford.
Several plans were detailed, the Times said, and "the uppermost option called for deploying 120,000 troops, which would take weeks or months to complete."
The Associated Press contributed to this report.
Read the whole story
· · ·
Two pumping stations on a major Saudi oil pipeline have today been attacked by explosive-laden drones, halting the flow of crude along it - just two days after the sabotage of four tankers off the UAE coast.
Saudi Energy Minister Khalid al-Falih said attacks on the pipeline from the oil-rich Eastern Province to the Red Sea took place early this morning and called it 'an act of terrorism' that targeted global oil supplies.
Oil infrastructure sites belonging to the country's state-run oil company Aramco were targeted with a fire breaking out at a station along the pipeline.
Iran-backed Houthi rebels, who are battling a Saudi-led military coalition in Yemen, had earlier claimed to have targeted several vital Saudi targets with drones and later said it was meant to send a message to the kingdom to 'stop your aggression' on their country. It was not immediately clear if they were also claiming responsibility for Sunday's ship sabotaging incident near Fujairah emirate.
The development threatens to further escalate tensions in the region after the Pentagon claimed Tehran had used explosives to blow holes in the four commercial ships.
Asked about the damage, which one tanker association suggested was caused by a 'weapon', US President Donald Trump warned that Tehran would 'suffer greatly' if it enraged Washington, predicting a 'bad problem for Iran if something happens'.
The war of words continued when President Hassan Rouhani responded by warning Iran is 'too great to be intimidated by anyone'. The Iranian leader told Sunni clerics that 'God willing we will pass this difficult period with glory and our heads held high, and defeat the enemy'.
The US has deployed B-52 bombers and an assault ship to bolster an aircraft carrier in the region. And acting Pentagon chief Patrick Shanahan proposed a revamped military plan at a meeting with senior national security aides that would send up to 120,000 US troops to the Middle East were Iran to attack American forces or speed up nuclear weapons development, The New York Times reported.
This morning, Yemen's Iran-aligned Houthi rebels said that they had targeted several vital Saudi targets with drones.
The Masirah TV report cited a Houthi military official as saying that 'seven drones carried out attacks on vital Saudi installations.'
It was not immediately clear if the Houthis, who are battling a Saudi-led military coalition in Yemen, were claiming responsibility for Sunday's attack near Fujairah emirate, which lies just outside the Strait of Hormuz. UAE authorities have not described the nature of that attack or who was behind it.
The Houthis have repeatedly launched drone and missile attacks on Saudi Arabia and claimed to have launched drone attacks on the UAE.
On Twitter, Al Masirah cited the official as saying, 'This large military operation is in response to the continued aggression and blockade of our people and we are prepared to carry out more unique and harsh strikes.'
Saudi Arabia and the UAE are leading the Western-backed Sunni Muslim alliance that intervened in Yemen in 2015 against the Houthis to try to restore the internationally recognised government ousted from power in the capital Sanaa in late 2014.
The conflict is widely seen in the region as a proxy war between Saudi Arabia and Iran. The Houthis deny being puppets of Iran and say their revolution is against corruption.
The drone attacks come with the region already gripped by a tense stand-off between the US and Iran with Britain warning of the risk of a conflict breaking out 'by accident' in the Gulf.
Tehran has distanced itself from the ship sabotage, warning of 'adventurism' by foreign players to disrupt maritime security.
The incident, in the Gulf of Oman, has sparked fears of a looming military confrontation along the world's most important oil artery following the collapse of the 2015 deal designed to curb Iran's nuclear ambitions.
Saudi and UAE officials have been tight-lipped about the extent of the damage but pictures showed at least one tanker with a hole in its hull. The nature of the sabotage, which happened in heavily patrolled waters where dozens of tankers are moored up, has sparked speculation about the possible use of unmanned vessels, speedboats or even armed drones.
Meanwhile, Spain has temporarily pulled one of its frigates that's part of a U.S.-led combat fleet from near the Persian Gulf. Spanish media, citing government sources, said Madrid is concerned that it could be dragged to an unwanted conflict.
The Ministry of Defense said the Mendez Nunez, with 215 sailors on board, will not cross the Strait of Hormuz into the Gulf together with the USS Abraham Lincoln. The Spanish frigate was the only non-U.S. vessel in the fleet.
As tensions spiralled today, oil prices moved higher with Brent crude futures at $70.30 a barrel at - up seven cents, or 0.1 per cent, from their last close. U.S. West Texas Intermediate (WTI) crude futures were at $61.11 per barrel, up seven cents, or 0.1 per cent, from their previous settlement.
Shipping experts, meanwhile, have warned of the threat of conflict amid fears shipping lanes in the Gulf could become flashpoints as tinderbox relations between the US, its Allies and Iran boil over.
Svetlana Lobaciova, from Gibson Shipbrokers, told the Financial Times: 'We are worried that there could be some military escalation in the Strait of Hormuz that could affect exports out of the region.
'But, at this stage, we do not know what exactly has happened and how significant this is.'
The executive director at the UAE's National Media Council, Jaber Al Lamki said the incident was 'an attempt to sabotage not just boats, but one aimed at undermining global oil supplies and maritime security.'
But a senior Iranian lawmaker and head of parliament's national security committee, Heshmatollah Falahatpisheh, suggested Gulf states were to blame for turning the region into a military zone.
He told state news agency IRNA: 'There are groups whose interests lay in making the region insecure. Iran and the US need to agree on a red line... so that third parties cannot exploit the situation.'
Citing heightened tensions in the region, the United Nations called on 'all concerned parties to exercise restraint for the sake of regional peace, including by ensuring maritime security' and freedom of navigation, U.N. deputy spokesman Farhan Haq said.
The scale of the alleged sabotage remains unclear. A statement from Saudi Energy Minister Khalid al-Falih said two of the kingdom's oil tankers, including one due to later carry crude to the U.S., sustained 'significant damage.'
However, a report from Sky News Arabia, a satellite channel owned by an Abu Dhabi ruling family member, showed the allegedly targeted Saudi tanker Al Marzoqah afloat without any apparent damage.
The oil tankers were visible in satellite images provided to the AP by Colorado-based Maxar Technologies. A boom surrounded the Emirati oil tanker A. Michel, indicating the possibility of an oil leak. The other three showed no visible major damage from above.
The U.S. had earlier warned ships that 'Iran or its proxies' could be targeting maritime traffic in the region, and America has moved additional ships and aircraft into the region.
The incident comes after months of increasing diplomatic and economic pressure on Iran, which the U.S. accuses of threatening American interests and allies in the region, including Saudi Arabia and the UAE.
Secretary of State Mike Pompeo on Sunday called Iran a 'major destabilizing force' in the Middle East while Britain warned of the danger of a war being started in the Gulf by accident.
Saudi Arabia has condemned 'acts of sabotage' in the Gulf but the scale of the damage remains unclear.
The country's energy minister Khalid al-Falih said the kingdom's two oil tankers, including one due to carry crude oil to the U.S., sustained 'significant damage' off the coast of Fujairah.
However, a report from Sky News Arabia showed the allegedly targeted Saudi tanker Al Marzoqah afloat without any apparent damage.
The MT Andrea Victory, another of the allegedly targeted ships, sustained a hole in its hull just above its waterline from 'an unknown object,' its owner said.
Pictures of the Andrea Victory, which the company said was 'not in any danger of sinking,' showed damage similar to what the firm described.
Emirati officials identified the third ship as the Saudi-flagged oil tanker Amjad. Ship-tracking data showed the vessel still anchored off Fujairah, apparently not in immediate distress.
The fourth ship was the A. Michel, a bunkering tanker flagged in Sharjah, one of the UAE's seven emirates.
The Saudi minister said the attacks on the two Saudi tankers happened at 6am on Sunday.
He said 'the attack didn't lead to any casualties or oil spill,' though he acknowledged it affected 'the security of oil supplies to consumers all over the world.'
One U.S. official said: 'This is what Iran does ... The sort of thing you could see Iran doing ... It fits their MO [modus operandi].'
Emirati officials have declined to elaborate on the nature of the sabotage or say who might have been responsible.
Reports in Lebanon and Iran had earlier claimed there were explosions near the UAE port but there has been no evidence to support their claims.
The apparent attacks come after the U.S. warned ships that 'Iran or its proxies' could be targeting maritime traffic in the region.
Washington has yet to officially respond to the claims of sabotage, although the U.S. energy department said it was monitoring world oil markets.
American naval investigators are also believed to be helping the UAE with their inquiries.
Meanwhile the general-secretary of the six-nation Gulf Cooperation Council described the alleged sabotage as a 'serious escalation' in an overnight statement.
'Such irresponsible acts will increase tension and conflicts in the region and expose its peoples to great danger,' Abdullatif bin Rashid al-Zayani said.
Bahrain, Egypt and the internationally recognized government of Yemen have also condemned the alleged sabotage.
Iran's Foreign Ministry called the incidents 'worrisome and dreadful' and asked for an investigation into the matter.
A senior Iranian lawmaker said 'saboteurs from a third country' could be behind it, after saying on Sunday the incident showed the security of Gulf states was fragile.
Speaking earlier, Britain's Foreign Secretary Jeremy Hunt said the UK was 'very worried about the risk of a conflict happening by accident, with an escalation that is unintended really on either side'.
Fujairah's port is about 140 kilometers (85 miles) south of the Strait of Hormuz, the narrow mouth of the Persian Gulf through which a third of all oil at sea is traded.
Washington's Energy Information Administration has called the Strait of Hormuz 'the world's most important oil transit chokepoint'.
In recent days the U.S. has warned ships that 'Iran or its proxies' could be targeting maritime traffic in the region.
The US has already strengthened its military presence in the region, including deploying a number of strategic B-52 bombers and the USS Abraham Lincoln strike group in response to alleged Iranian threats.
America is also sending USS Arlington, carrying Marines, as well as a Patriot missile defense system.
The USS Kearsarge, an amphibious assault ship carrying Marines and warplanes, has just left the Persian Gulf and is nearby in the Arabian Sea.
Pompeo scrapped a planned visit to Moscow and headed to Brussels instead for talks with European officials on Iran.
Tensions have flared up again in recent days since Iranian leader Hassan Rouhani warned his country could begin ramping up uranium enrichment if a controversial 2015 deal was not rewritten.
Trump last year withdrew America from the 2015 nuclear deal and restored US sanctions that have pushed Iran's economy into crisis.
Tehran has demanded that the UK, France, Germany, China and Russia help Iran to dodge U.S. sanctions.
European powers have tried to find ways to blunt the impact of new U.S. sanctions, in the hope of persuading Tehran to continue to abide by the deal.
However, their efforts have largely failed, with all major European companies abandoning plans to do business with Iran for fear of U.S. punishment.
Rouhani said last week that Iran would ramp up nuclear enrichment if fresh help did not materialize.
White House defense aide Tim Morrison condemned Iran's attempted 'nuclear blackmail of Europe' and warned: 'Expect more sanctions soon. Very soon.'
Rouhani's comments also sparked outrage in Europe, as Britain warned of 'consequences' if Iran gives up its nuclear commitments.
The threat also sparked a backlash from Israel, where Benjamin Netanyahu warned he would 'not allow Iran to obtain nuclear weapons'.
Netanyahu, who has accused Iran of breaching the deal, said Israel 'will continue to fight those who seek to take our lives'.
Secretary of State Mike Pompeo yesterday changed the schedule for his latest trip to Europe, replacing a stop in Moscow for one in Brussels to discuss Iran.
We are very worried about the risk of a conflict happening by accident, with an escalation that is unintended really on either side,' Britain's Foreign Secretary Jeremy Hunt warned.
'Most of all, we need to make sure we don't end up putting Iran back on the path to renuclearization.
'Because if Iran becomes a nuclear power, its neighbors are likely to want to become nuclear powers. This is already the most unstable region in the world, and this would be a massive step in the wrong direction.'
The U.S. State Department billed Monday's talks in Brussels as a chance 'to discuss recent threatening actions and statements' by Iran.
German Foreign Minister Heiko Maas said he had told Pompeo during their Monday meeting: 'We do not want it to come to a military conflict.'
It was clear that Europe and the United States were 'going about it in different ways ... taking different courses,' he said.
Read the whole story
· · · · · · · · · · · · · · · · · · · · · · · · · ·
MOSCOW (AP) — U.S. Secretary of State Mike Pompeo on Tuesday arrived in Russia for talks that are expected to focus on an array of issues including arms control and Iran.
Pompeo landed in the Black Sea resort of Sochi for his first visit to Russia at a time relations between the two countries are at a post-Cold War low.
Pompeo will be sitting down for talks with Foreign Minister Sergey Lavrov before he meets with Russian President Vladimir Putin.
Pompeo said in a tweet before setting off for Russia that Moscow and Washington agree on some issues and disagree on others but added that it is "our responsibility to find a way forward."
Putin's spokesman, Dmitry Peskov, told reporters on Tuesday that he expects the meeting to focus on arms control, Iran, Syria, Venezuela and North Korea's nuclear program.
Before hosting Pompeo, Putin is expected to visit a military facility in the south that manufactures some of Russia's most modern fighter jets. Asked whether it was deliberately timed to coincide with Pompeo's visit, Peskov argued this was a routine visit and not a "message" to anyone.
On Monday, Putin toured another military aviation factory and chaired a meeting on the military industrial complex.
Next Page of Stories
Loading...
Page 2
They were terrible
miscarriages of justice
- but they were not ... Figures from the
US
Bureau of Justice
Statistics
suggest only 35% of all sexual ...
<a href="http://Aljazeera.com" rel="nofollow">Aljazeera.com</a>
-
Mar 13, 2019
In fact, in the
US
, more than 25 percent of overturned wrongful ... It is such an intense execution of power, a
miscarriage of justice
, and the ...
Next Page of Stories
Loading...
Page 3
Next Page of Stories
Loading...
Page 4
Saved Stories – None
Most violent and property crimes in the U.S. go unsolved
---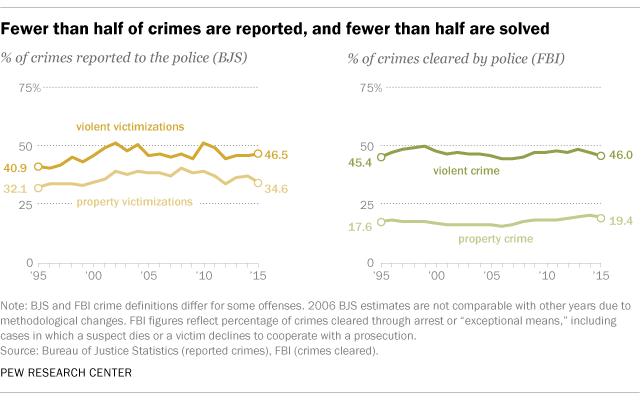 Only about half of the violent crimes and a third of the property crimes that occur in the United States each year are reported to police. And most of the crimes that
are
reported don't result in the arrest, charging and prosecution of a suspect, according to government statistics.
In 2015, the most recent year for which data are available, 47% of the violent crimes and 35% of the property crimes tracked by the Bureau of Justice Statistics were reported to police. Those figures come from an
annual BJS survey of 90,000 households
, which asks Americans ages 12 and older whether they were victims of a crime in the past six months and, if so, whether they reported that crime to law enforcement or not.
Read the whole story
· · · ·
---

---
Posted by
mikenov
on Monday, May 13th, 2019 1:22pm
Mar 1, 2017 -

Only

about half of the violent

crimes

and a third of the property

crimes

... the share of violent

crimes

cleared by police ranged from 44% to

50

%; ...
Next Page of Stories
Loading...
Page 5
Next Page of Stories
Loading...
Page 6
Revolutionary Guards commander says presence of US aircraft carrier in the Gulf does not pose threat
The deployment of a US aircraft carrier to Iran's regional waters is nothing but psychological warfare and part of a plan to intimidate Iran, the head of the Revolutionary Guards Corps, Gen Hossein Salami, told a closed-door session with parliamentarians in Tehran on Sunday.
The IRGC commander said a US war on Iran was impossible, claiming the US lacked the military strength.
Continue reading...
Donald Trump | The Guardian