Credit

Sergey Ponomarev for The New York Times
"
It has been said that Kamchatka is so far east of Moscow that it is practically west. The nine-hour flight from Moscow lasts almost three times longer than flights from Anchorage (those run only in the summer)."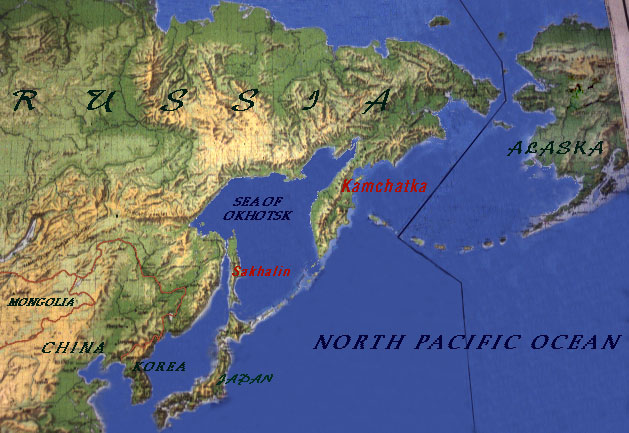 ________________________________
Next Page of Stories
Loading...
Page 2
Next Page of Stories
Loading...
Page 3
Next Page of Stories
Loading...
Page 4
Next Page of Stories
Loading...
Page 5
Next Page of Stories
Loading...
Page 6
Next Page of Stories
Loading...
Page 7
DETROIT —
"Diego Rivera and Frida Kahlo in Detroit"
is the story of two artists, two countries and one city. Filling several galleries at the Detroit Institute of Arts, it is also a serendipitous celebration of this exemplary museum's hard-won independence.
While the show was conceived nearly a decade ago, its opening closely followed the happy conclusion of a tense 20 months during which the city, which owned the museum's art collection and was facing bankruptcy, explored the possibility of selling valuable masterpieces for quick cash.
Last November, a judge approved the City of Detroit's plan of adjustment, which included an agreement called the Grand Bargain. Under this, the museum pledged to contribute $100 million over 20 years to the city's pension costs, while state, local and national foundations pledged an additional $715 million combined. In return, the collection's ownership was transferred from the city to the museum. Thousands in Detroit and elsewhere breathed a huge sigh of relief.
The Rivera-Kahlo exhibition revisits the creation of a masterpiece made in Detroit, for Detroit, that would have been hard to sell because it is an intrinsic part of the Detroit Institute's building. "Detroit Industry" is an idealized ode to the city in 27 frescoes. These formed the project that brought Diego Rivera, best known of the Mexican muralists, to Detroit in April 1932, accompanied by his much younger wife, Frida Kahlo, also an artist. Over the next 11 months, Rivera researched, designed and painted the frescoes that cover the four vaulting walls of the museum's courtyard, now known as the Rivera Court. It features heroic scenes of muscular workers and even more idealized earth mothers grasping sheaths of wheat or armloads of fruit. All told, the "Detroit Industry" frescoes are probably as close as this country gets to the ceiling of the Sistine Chapel.
This is to say that they are both monumental and awe-inspiring and, given that they were made four centuries after Michelangelo's ceiling, something of an anachronism from the start. Still, they form an unusually explicit, site-specific expression of the reciprocal bond between an art museum and its urban setting, and Rivera considered them one of the pinnacles of his career.
Kahlo's time in Detroit was perhaps even more important, even though she did not enjoy her stay. When she arrived, she was well along in synthesizing the influences of Mexican folk art and Surrealism into a mature vision. But in many ways, the miscarriage she suffered while in Detroit spurred the searing form of self-representation that is her contribution to art history. This miscarriage was the second physical trauma of her fraught, intensely creative life, the first being a near-fatal traffic accident in Mexico City in 1925, which caused her continual pain for the remainder of her life and severely reduced her chances of having children. (Kahlo depicted the colliding buses in a 1926 drawing on view in the show's opening gallery.)
The show, which includes nearly 70 works executed by both artists before, during and after their Detroit sojourn, is a kind of contest between a hefty hare and a tiny tortoise. Rivera takes up most of the room — as, tall and bulky, he did in real life — but Kahlo emerges in the final galleries as the stronger, more personal and more original artist.
"Diego Rivera and Frida Kahlo in Detroit" has been organized by Mark Rosenthal, now an independent curator and scholar with decades of museum work on his résumé. It is studded with key loans, rarely seen works and surprises. It contains, for example, four of the immense actual-size charcoal drawings that Rivera made for individual fresco panels — fragile works that the museum is displaying for the first time in 30 years. Also on hand: four of the five paintings Kahlo made while in the city, starting with "Henry Ford Hospital" (1932), her reprise of the miscarriage, which shows her lying naked on a bloody bed set in an arid landscape with Ford's River Rouge plant shimmering in the distance like an early Renaissance city. And there are three superb little exquisite corpse drawings that Kahlo made with her friend Lucienne Bloch when they escaped Detroit for a visit to New York City.
Yet in any other context, this exhibition might seem rather piecemeal, and it is riven with dumbed-down labels that emphasize the artists' relationship, presenting a much simpler view of their artistic efforts than Mr. Rosenthal does in the catalog. But with "Detroit Industry" just down the hall, the show functions as a giant frame that illuminates Rivera's frescoes to stunning effect.
A mesmerizing if slightly bombastic combination of heroic reality and nebulous idealism, and of friezes of figures alternating with deep vistas, the frescoes depicted Ford Motor Company blast furnaces and assembly lines; research scientists in their laboratories at Parke-Davis (later Pfizer) and workers trudging to and from factories. Nature is conjured not only by the robust female nudes but also in geological strata showing iron-ore formation and, in one of the best small panels, as black chunks of disease destroying crepuscular living cells. In a trompe l'oeil tour de force, Rivera renders a tanker carrying South American rubber as if it were a bronze relief.
There were hints of Rivera's ambivalent Communist proclivities: a villainous-looking line foreman, visibly passive bourgeois visitors touring a plant, and a lone worker wearing leather gloves emblazoned with a red star. But as with any Renaissance work, there were also portraits of patrons: William R. Valentiner, the German-born director of the Detroit Institute of Arts, and Edsel Ford, the scion of one of the nation's wealthiest families, who underwrote the project.
Perhaps the most arresting expressions of Rivera's subversive instinct are the narrow panels at the top of the courtyard's longer walls. Each features two large figures; the four represent what Rivera saw as the world's four races. Rising between each pair is a jagged mound of deep red earth from which protrude sturdy hands of various colors. Many hold clumps of dirt or rocks, suggesting an angry mob working its way to the surface.
Within the frame this exhibition sets around Rivera's frescoes, Kahlo's development is a small vivid sidebar of more than equal weight. Her work is everything Rivera's art is not: small in size and suffused with personal emotion and existential torment. If Rivera's frescoes are a kind of cathedral and also a colossal period piece, Kahlo's small paintings are portable altarpieces for private devotion and a high point of Surrealism that speaks to us still.
No surprise, among the ephemera reproduced here is an article about Kahlo that appeared in The Detroit News. In it she said of her husband, "Of course, he does pretty well for a little boy, but it is I who am the big artist."
Read the whole story
· · · ·
The framework nuclear agreement he
reached with Iran on Thursday
did not provide the definitive answer to whether Mr. Obama's audacious gamble will pay off. The fist
Iran
has shaken at the so-called
Great Satan since 1979
has not completely relaxed. But the fingers are loosening, and the agreement, while still incomplete, held out the prospect that it might yet become a handshake.
For a president whose ambitions to remake the world have been repeatedly frustrated, the possibility of a reconciliation after 36 years of hostility between Washington and Tehran now seems tantalizingly within reach, a way to be worthy of the Nobel Peace Prize that even he believed was awarded prematurely. Yet the deal remains unfinished and unsigned, and critics worry that he is giving up too much while grasping for the illusion of peace.
"Right now, he has no foreign policy legacy," said Cliff Kupchan, an Iran specialist who has been tracking the talks as chairman of the Eurasia Group, a consulting firm. "He's got a list of foreign policy failures. A deal with Iran and the ensuing transformation of politics in the Middle East would provide one of the more robust foreign policy legacies of any recent presidencies. It's kind of all in for Obama. He has nothing else. So for him, it's all or nothing."
As Mr. Obama stepped into the Rose Garden to announce what he called a historic understanding, he seemed both relieved that it had come together and combative with those in Congress who would tear it apart. While its provisions must be translated into writing by June 30, he presented it as a breakthrough that would, if made final, make the world a safer place, the kind of legacy any president would like to leave. "This has been a long time coming," he said.
Mr. Obama cited the same John F. Kennedy quote he referenced earlier in the week when visiting a new institute dedicated to the former president's brother, Senator Edward M. Kennedy: "Let us never negotiate out of fear, but let us never fear to negotiate." The sense of celebration was captured by aides standing nearby in the Colonnade who exchanged fist bumps at the end of the president's remarks.
But Mr. Obama will have a hard time convincing a skeptical Congress, where Republicans and many Democrats are deeply concerned that he has grown so desperate to reach a deal that he is trading away American and Israeli security. As he tries to reach finality with Iran, he will have to fend off legislative efforts, joined even by some of his friends, to force a tougher posture.
A guide to help you navigate the talks between Western powers and Tehran.
House Speaker John A. Boehner, who has been traveling in the Middle East in recent days, repeated his insistence that Congress review any deal before sanctions are eased. "My concerns about Iran's efforts to foment unrest, brutal violence and terror have only grown," Mr. Boehner said in a statement. "It would be naïve to suggest the Iranian regime will not continue to use its
nuclear program
, and any economic relief, to further destabilize the region."
Mr. Obama tried to reverse that argument on Thursday, framing the choice as either accepting his deal or risking war, a binary formulation his critics reject. "Do you really think that this verifiable deal, if fully implemented, backed by the world's major powers, is a worse option than the risk of another war in the Middle East?" Mr. Obama asked. If Congress kills the deal, he said, "then it's the United States that will be blamed for the failure of diplomacy."
An agreement with Iran remains the most promising goal left in a foreign policy agenda that has unraveled since Mr. Obama took office. Rather than building a new partnership with Russia, he faces a new cold war. Rather than ending the war in Iraq, he has sent American forces back to fight the Islamic State, though primarily from the air. Rather than defeating Al Qaeda, he finds himself chasing its offshoots. Rather than forging peace in the Middle East, he said recently that is beyond his reach.
Mr. Obama still aspires to reorient American foreign policy more toward Asia, and a pending Pacific trade pact could have a lasting impact if he can seal the deal and push it through Congress. He has nudged the world, particularly China, toward more action on climate change. He will count the restoration of diplomatic relations with Cuba after a half-century of estrangement as a major achievement.
Whether Iran is racing toward nuclear weapon capabilities is one of the most contentious foreign-policy issues challenging the West.
But with so many disappointments, Iran has become something of a holy grail of foreign policy to Mr. Obama, one that could hold the key to a broader reordering of a region that has bedeviled American presidents for generations. Aides say he has spent more time on Iran than any other foreign policy issue except Afghanistan and terrorism.
Since the 1979 Iranian revolution that swept out the Washington-supported shah and brought to power an anti-American Islamic leadership, the country has been the most sustained destabilizing force in the Middle East — a sponsor of the terrorist groups Hezbollah and Hamas, a supporter of Shiite militias that killed American soldiers in Iraq, a patron of Syria's government in its bloody civil war, and now a backer of the rebels who pushed out the president of Yemen.
A nuclear agreement will not change all of that, or perhaps any of that, a point Mr. Obama's critics have made repeatedly. But Mr. Obama hopes it can be the start of a new era. An Iran that would "rejoin the community of nations," as he put it Thursday, may have incentive to stop fomenting so much trouble. Failure as Mr. Obama sees it means more war, more instability. He has been
willing to gamble America's relationship with Israel
and his own presidency on that premise.
"Obama always saw the Iranian nuclear threat as a major security challenge that would lead to war if not controlled, and further proliferation if not prevented," said Gary Samore, a former top arms control adviser to Mr. Obama who is now president of the advocacy group United Against Nuclear Iran.
"If we get a nuclear deal, it won't solve the problem, because the current government in Iran will still be committed to acquiring a
nuclear weapons
capability," he added. "But it would give the next president a much stronger basis to manage and delay the threat."
Reuel Marc Gerecht, a former C.I.A. analyst who is now a senior fellow at the Foundation for Defense of Democracies, said a nuclear accord with Iran was all that remained of Mr. Obama's dream of transformation. But Mr. Obama, he said, has misjudged Iran's supreme leader, Ayatollah Ali Khamenei, and its president, Hassan Rouhani.
"A reading of the supreme leader or of Hassan Rouhani in their own words ought to tell you that there is a near-zero chance that an accord will diminish the revolutionary, religious hostility that these two men, the revolutionary elite, have for the United States," he said.
If Mr. Obama does turn out to be right, Mr. Gerecht added, history will reward him. "If he is wrong, however, and this diplomatic process accelerates the nuclearization of the region, throws jet fuel on the war between the Sunnis and the Shia, and puts America into a much worse strategic position in the Middle East," he said, "then history is likely to be harsh to Mr. Obama."
R. Nicholas Burns, who was President George W. Bush's lead negotiator on Iran, said Mr. Obama had embraced and enhanced a strategy his predecessor began. "We'll have to judge him by the final result, but so far, this has been a successful effort," he said. "A good deal could prevent Iran from getting a nuclear weapon. A bad deal could end up empowering Iran, a defeat for him and the country."
"In terms of legacy," Mr. Burns added, "this is one of the two or three things that will determine it, for good or bad."
Read the whole story
· · · · · · ·
Earlier this week, Special Agent Vicki Anderson of the Cleveland FBI issued a statement warning study abroad students about being approached while studying abroad to spy on their home country.
"You might not have information that you think is valuable to someone but they may see you as a valuable person, someone that they can control, someone that they can get into a business or they can get in to the government to get them some information," Anderson
told
ABC 5 in Cleveland.
In 2010, a former study abroad student, Glenn Duffie Shriver, was arrested and later convicted of espionage. He had been recruited while studying abroad at East China Normal University in Shanghai, China. His story is told in the FBI video called
Game of Pawns
.
Shriver was initially a study abroad student who loved living in China. While there, he accepted a job opportunity writing papers about U.S.-China relations for large sums of cash.
His relationship with his employer continued to grow and eventually Shriver took the Foreign Service examination, required for individuals applying to work in the U.S. Department of State. After failing the examination, Shriver's employers encouraged him to apply to work for the CIA. Upon agreeing to apply, Shriver accepted $40,000 from his employers, which he then smuggled into the United States.
After pleading guilty for conspiring to commit espionage, Shriver has a message for current and future study abroad students:
"They say everyone has their price, and you know, when you're being told 'Hey, you don't have to do anything about it. We just want to be your friend. Here's $10,000, no big deal.' That's hard to say no to. Recruitment's going on. Don't fool yourself. The recruitment is active, and the target is young people. Throw lots of money at them, see what happens," Shriver says in
Game of Pawns
.
The FBI warns that, "by establishing relationships with students before they have this access, the foreign services seek to create future opportunities to obtain information and contacts of intelligence value. Foreign intelligence services are often willing to wait a long time, even years, to exploit these relationships" and "while some countries' intelligence services tend to target students more aggressively than others, no single country is responsible for the entirety of this targeting. Students are advised to be aware of this threat no matter what country they travel to."
While foreign intelligence services actively target U.S. study abroad students, the U.S. government doesn't discourage students from learning about foreign countries, their customs, cultures and language that are derived from overseas experiences.
The FBI issues these warnings to better inform students about foreign intelligence issues they might confront while abroad, ensuring students "can maximize the career-related benefits of study abroad while minimizing any potential of inadvertently compromising future employability through unwitting action or association".
How foreign governments target study abroad students can vary.
The FBI's website
says that, "In many cases, foreign intelligence officers do not openly affiliate with their intelligence services when developing relationships with students," using seemingly innocuous social, academic, or work-related interactions — paid paper-writing engagements, like in Shriver's case, language exchanges, and cultural immersion programs –to meet and engage with U.S. students.
In many cases, intelligence officers provide students with payments and offer the students opportunities, such as a job, internship, visa or residence permit while appearing to receive little or nothing in return.
To report any suspicious activity, students should contact their closest U.S. Embassy or Consulate's regional security office while abroad and their local FBI field office upon returning to the U.S.
The FBI reminds students that, "there are no negative repercussions for reporting suspicious activity — the FBI's primary goal and interest is to protect U.S. students and to ensure that they do not become involved unwittingly with individuals or activities that might create problems for them in the future."
Kylee Borger
is a student at New York University and a spring 2015 USA TODAY Collegiate Correspondent.
Read the whole story
· · ·