M.N.: The incidents of global and domestic (USA) terrorism activity and the incidents of the USA mass shootings show very similar dynamics, with the main recent trend of sharp exponential increase, especially since 2011. This might be an indication that they are the parts of the same phenomenon and that they originate and are directed and coordinated from the same center. I think, this has to be looked into and studied further, with incorporation of other and broader sets of data.
_________________________
As shown by the University of Maryland's
Global Terrorism Database
, there has been a significant spike in global terrorist attacks overall in the period following 2011. The following graph illustrates this alarming trend:
National Consortium for the Study of Terrorism and Responses to Terrorism (START). (2013). Global Terrorism Database [Data file]. Retrieved from http://www.start.umd.edu/gtd
________________________________
The graph below shows how the Harvard team plotted the increase in the rate of mass shootings since 2011: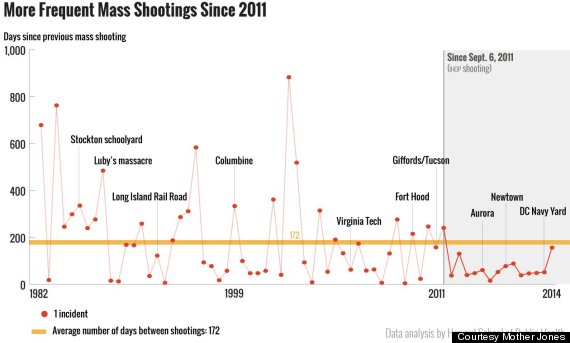 Harvard University researchers say U.S. mass shootings have surged in the last three years, contradicting earlier studies.
The Harvard researchers said the rate of mass shootings has increased threefold since 2011, occurring on average every 64 days, compared with an average of every 200 days in the years from 1982 to 2011.
The researchers used a database
created by Mother Jones
to look at mass shootings, which they defined as attacks that "took place in public, in which the shooter and the victims generally were unrelated and unknown to each other, and in which the shooter murdered four or more people."
The Harvard study echoes
an FBI report last month
that found active shooter incidents have risen dramatically in the last six years, with an average of 16.4 such shootings a year from 2007 to 2013, compared with an average of 6.4 shootings annually from 2000 to 2006.
______________________________________
________________________________________
______________________________

M.N.: To many "reasons for radicalization" described in this Wikipedia article I would add one more, which was not mentioned in this article but might be the main one, at least in some cases, although this reason is as old as the world itself, mundane and "prosaic": money. These people are simply paid for what they do, and probably paid very well. For the person who wants to provide for his family or loved ones, this might be the most decisive factor and the easiest way to do it and to prove his self-worth to them and him-herself, especially in combination with other factors, among them - depression and suicidal wish.
See more on this subject:
___________________________________
See Also:
______________________________________
First published on
7/17/15, 11:46 AM, Updated on 7.19.15