John Brennan" Interview Highlights:
Russia continued to hold the key to Syria's future, he said, but he expressed scepticism about its willingness to come to any kind of deal. He said Moscow had been "disingenuous" in negotiating tactics, seeking to draw the process out in order to "choke" Aleppo.
"I do not have confidence that the Russians are going to relent until they are able to achieve as much tactical battlefield successes as possible," he said.
-
On the role of Russia in trying to influence the US election by hacking and releasing information, the CIA director confirmed Russia had sought to carry out such activity but said he would defer to domestic counterparts as to the impact.
He did confirm that he had had conversations with his Russian opposite numbers to challenge them over these actions and warn them that they would backfire.
-
Terrorism remains an overriding concern. The team planning external attacks within the so-called Islamic State remained "very active", Mr Brennan said, and was seeking to demonstrate that - despite setbacks on the battlefield - the group still had the ability to carry out attacks against the West.
The CIA director said he had not yet sat down with the new team to discuss the capabilities and programmes the CIA had but he was ready to do so.
-
Some members of the new administration, such as Gen Michael Flynn, have talked of the US needing to recognise it was in a "world war" with Islamist militants.
When asked if language about "world wars" was helpful, the CIA director said the new team needed to be "disciplined in the language that they use [and] the messages that they send. Because if they are not disciplined, their language will be exploited by the terrorist and extremist organisations as a way to portray the United States and the government as being anti-Islamic and we are not."
-
"Without a doubt the CIA really took some body blows as a result of its experiences," he said. "I think the overwhelming majority of CIA officers would not want to get back into that business."
The pace of drone strikes increased during the Obama administration although responsibility for many of them has shifted to the military rather than the CIA. When John Brennan ran counter-terrorism operations in the White House, he was instrumental in putting in place a series of rules over drone strikes.
So could a new administration simply rewrite the rules on drone strikes as well as the handling of detainees?
"This is where there is tremendous responsibility on the new administration…to make sure that they use the great capabilities that this government has as effectively and as judiciously as possible," he told the BBC, arguing that if powers such as drone strikes were misused, they could prove counterproductive to US security.
-
-
Donald Trump Says He Will Be 'Leaving My Great Business in Total'
-
M.N.: Very good photo, I really like it: he looks very expressive, conveying the range of the complex and contradictory emotions: e.g. anger, hurt, power, strength, persistence, search for understanding and support - political "love", etc., and above all - sincerity, or so I hope, shackled forever by my illusions.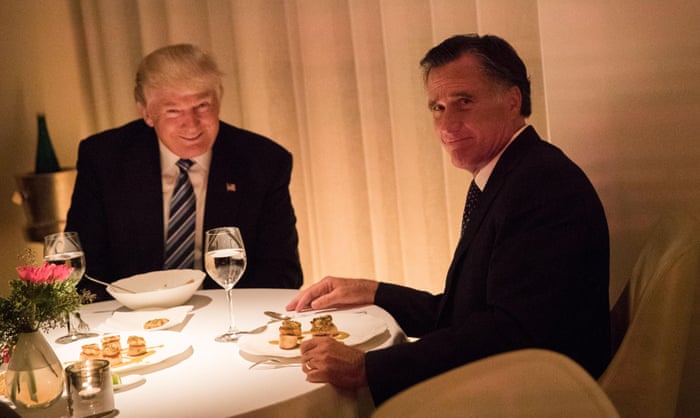 'If this photo had a caption, it would be: "Honey! What are you doing back so early?"' Donald Trump with Mitt Romney. Photograph: Drew Angerer/Getty Images
A follow-up photo from "The Guardian", apparently of the same dinner: playful, jovial, warm, enjoys the game.
Steven Mnuchin Is Donald Trump's Expected Choice for Treasury Secretary
Hence, legal documents are being crafted which take me completely out of business operations. The Presidency is a far more important task!

do this under the law, I feel it is visually important, as President, to in no way have a conflict of interest with my various businesses..

great business in total in order to fully focus on running the country in order to MAKE AMERICA GREAT AGAIN! While I am not mandated to ....

I will be holding a major news conference in New York City with my children on December 15 to discuss the fact that I will be leaving my ...
-
Trump says he will leave his businesses "in total" in order to "fully focus" on running the country:
http://
thebea.st/2g6kzrm
-
M.N.: A man stole a bucket of gold flakes valued at $1.6 million (on 9.29.16) in midtown Manhattan, and the police is "still looking for him". - And how would you interpret this?!
-
M.N.: Not bad, looks real strong, but somewhat empty, like a

straw-man

. Be strong and bright, "Brightbart": I did pitch in some help with your ad (you probably need it, to uplift your bottom line), maybe someone will buy it, but not me: your empty hoodie looks too flimsy, of too mediocre a quality, and too zipped up, to my taste; and your "B" looks like a grade mark (which is not bad at all, but still it is not "A") and it is somewhat more scratched than it should be. But do be strong, and do be bright: you need it.
-
Hillary Clinton has been out and about of late, enjoying her time in retirement.
M.N.: You look good, Hillary! And even better without any makeup: more natural and more yourself. We love you even more, and no matter what.
-
#OhioState
slasher should not have been in our country, says Trump
-
M.N.: Somehow, the NYT caught some wind into its sails (from their desk fans, probably), and decided to rail a bit, within the limits of its self-imposed editorial propriety, against the Twitter-In-Chief:

"He tweets, he posts, he incites. He trolls. He commands a global platform and will soon be America's commander in chief. But it has to be said, and said again: This is not normal. It demeans the presidency."
I dare to disagree with this, and the most emph-emph-emphatically: Let the man tweet! He is entitled to! Do not try to deprive him of the opportunities that you fully enjoy yourselves and more. Dig deeper, the NYT! Unleash your fork-shaped tongue! Bite! Release your poisons to the fullest, we will collect them and send the package to the pharmacy, to be processed into the healing social medicine. Return to sailing in the open ocean!
And now they will say that I am trying to incite the NYT!
-