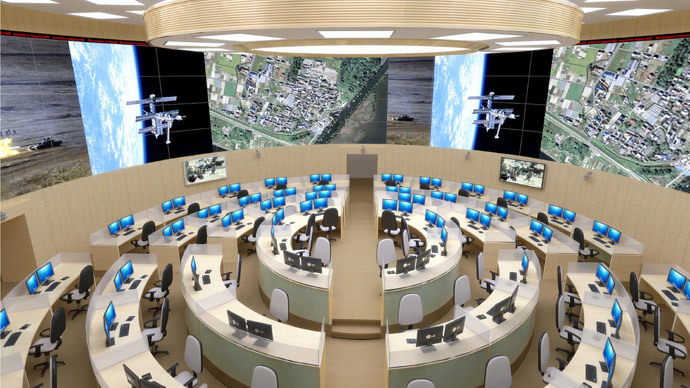 NDCC war room. Computer simulation. Image by Defence Ministy
Russia is launching a new national defense facility, which is meant to monitor threats to national security in peacetime, but would take control of the entire country in case of war.
Comparison of Russia's military doctrines of 2010 and 2014
Военная доктрина Российской Федерации - 2014 - EXCERPTS
I. Общие положения
9. Мировое развитие на современном этапе характеризуется
усилением глобальной конкуренции, напряженности в различных
областях межгосударственного и межрегионального
взаимодействия, соперничеством ценностных ориентиров и
моделей развития, неустойчивостью процессов экономического и
политического развития на глобальном и региональном уровнях на
фоне общего осложнения международных отношений. Происходит
поэтапное перераспределение влияния в пользу новых центров
экономического роста и политического притяжения.
II. Военные опасности и военные угрозы Российской Федерации
11. Наметилась тенденция смещения военных опасностей и
военных угроз в информационное пространство и внутреннюю
сферу Российской Федерации. При этом, несмотря на снижение
12. Основные внешние военные опасности:
а) наращивание силового потенциала Организации
Североатлантического договора (НАТО) и наделение ее
глобальными функциями, реализуемыми в нарушение норм
международного права, приближение военной инфраструктуры
стран - членов НАТО к границам Российской Федерации, в том
числе путем дальнейшего расширения блока;
б) дестабилизация обстановки в отдельных государствах и
регионах и подрыв глобальной и региональной стабильности;
в) развертывание (наращивание) воинских контингентов
иностранных государств (групп государств) на территориях
государств, сопредельных с Российской Федерацией и ее
союзниками, а также в прилегающих акваториях, в том числе для
политического и военного давления на Российскую Федерацию;
г) создание и развертывание систем стратегической
противоракетной обороны, подрывающих глобальную
стабильность и нарушающих сложившееся соотношение сил в
ракетно-ядерной сфере, реализация концепции "глобального
удара", намерение разместить оружие в космосе, а также
развертывание стратегических неядерных систем высокоточного
оружия;
к) растущая угроза глобального экстремизма (терроризма) и
его новых проявлений в условиях недостаточно эффективного
международного антитеррористического сотрудничества, реальная
угроза проведения терактов с применением радиоактивных и
токсичных химических веществ, расширение масштабов
транснациональной организованной преступности, прежде всего
незаконного оборота оружия и наркотиков;
м) использование информационных и коммуникационных
технологий в военно-политических целях для осуществления
действий, противоречащих международному праву, направленных
против суверенитета, политической независимости,
территориальной целостности государств и представляющих угрозу
международному миру, безопасности, глобальной и региональной
стабильности;
13. Основные внутренние военные опасности:
в) деятельность по информационному воздействию на
население, в первую очередь на молодых граждан страны, имеющая
целью подрыв исторических, духовных и патриотических традиций
в области защиты Отечества;
15. Характерные черты и особенности современных военных
конфликтов:
а) комплексное применение военной силы, политических,
экономических, информационных и иных мер невоенного
б) массированное применение систем вооружения и военной
техники, высокоточного, гиперзвукового оружия, средств
радиоэлектронной борьбы, оружия на новых физических
принципах, сопоставимого по эффективности с ядерным оружием,
информационно-управляющих систем, а также беспилотных
летательных и автономных морских аппаратов, управляемых
роботизированных образцов вооружения и военной техники;
з)
участие в военных действиях иррегулярных вооруженных
формирований и частных военных компаний;
к)
использование финансируемых и управляемых извне
политических сил, общественных движений.
27. Российская Федерация оставляет за собой право
применить ядерное оружие в ответ на применение против нее и
(или) ее союзников ядерного и других видов оружия массового
поражения, а также в случае агрессии против Российской
у) обеспечение национальных интересов Российской
Федерации в Арктике.
IV. Военно-экономическое обеспечение обороны
43. Основной задачей военно-экономического обеспечения
обороны является создание условий для устойчивого развития и
поддержания возможностей военно-экономического и военно-
технического потенциалов государства на уровне, необходимом для
реализации военной политики и надежного удовлетворения
потребностей военной организации в мирное время, в период
непосредственной угрозы агрессии и в военное время.
46.
Задачи оснащения Вооруженных Сил, других войск и
органов вооружением, военной и специальной техникой:
в) развитие сил и средств информационного противоборства;
е) создание новых образцов высокоточного оружия и средств
борьбы с ним, средств воздушно-космической обороны, систем
связи, разведки и управления, радиоэлектронной борьбы,
комплексов беспилотных летательных аппаратов,
роботизированных ударных комплексов, современной
транспортной авиации, систем индивидуальной защиты
военнослужащих;
ж) создание базовых информационно-управляющих систем и
их интеграция с системами управления оружием и комплексами
средств автоматизации органов управления стратегического,
оперативно-стратегического, оперативного, оперативно-
тактического и тактического масштаба.
_________________________
Next Page of Stories
Loading...
Page 2
Next Page of Stories
Loading...
Page 3
1992 draft
[
edit
]
The 1992 draft doctrine showed that first Russian thoughts on external threats were little more than a replica of Soviet thinking. The document stated that while the threat of a world war had declined significantly, the 'sources of military danger' in international relations remained the same as under the USSR.
1993 Military Doctrine
[
edit
]
In keeping with its emphasis on the threat of regional conflicts, the doctrine called for Russian armed forces that were smaller, lighter, and more mobile, with a higher degree of professionalism and with greater rapid deployment capability. Such change proved extremely difficult to achieve.
2000 Military Doctrine
[
edit
]
2010 Military Doctrine
[
edit
]
striving to give NATO forces global functions, moving NATO infrastructure closer to Russia's borders
attempt to destabilize the situation in various states and regions and undermine strategic stability
deployment of foreign military contingents in countries and waters adjacent to Russia and its allies
deployment of strategic anti-missile defense systems, undermining global stability, and violating the established nuclear balance of forces, the militarization of space, and deployment of non-nuclear precision weapons;
territorial claims against Russia and its allies and interference in internal affairs
spread of weapons of mass destruction, missiles and missile technology, increase in the number of nuclear states
violation by some states of international agreements and non-compliance with previously concluded arms limitation and reduction treaties
use of military force in adjacent states in violation of the UN Charter and other international legal norms
presence of sources and escalation of military conflict in territories adjacent to Russia and it allies
spread of international terrorism
occurrence of sources of inter-ethnic (inter-faith) tensions, activity of international armed radical groups in areas adjacent to Russia and its allies, growth of separatism and forcible extremism in various regions of the world
It also lists five actions seen as constituting military threats:
a sharpening of the military-political situation and creation of conditions for the use of military force
hindrance of the working of the state and military command and control system, interference in the functioning of its strategic nuclear forces, missile attack warning systems, space monitoring systems, nuclear warhead storage facilities, nuclear power and other potentially dangerous facilities
creation and training of illegal armed formations and their activity on Russian territory or that of its allies
demonstration of force in the course of conducting exercises in states adjacent to Russia or its allies with provocative intent
activation of military forces in various states with the conduct of partial or full mobilization and transition to wartime footing
References
[
edit
]
External links
[
edit
]
Read the whole story
· · · · · ·
Read the whole story
· · ·
<a href="http://www.theguardian.com" rel="nofollow">www.theguardian.com</a> › US News › US military
Aug 26, 2014 -

Homa Khaleeli: This week, the US tested a

hypersonic

prototype

missile

in its bid to develop a

weapon

capable of reaching any target in the ...
<a href="http://www.defenseone.com/ideas/2014/09/" rel="nofollow">www.defenseone.com/ideas/2014/09/</a>...
hypersonic
...
weapons
.../94379/
Sep 17, 2014 -

The Pentagon has a bit more explaining to do before the U.S. keeps developing its latest super-fast

weapon

. By James M. Acton.
---
---
Read the whole story
· · · · · · ·
Published time: December 04, 2014 21:17
Edited time: December 07, 2014 16:48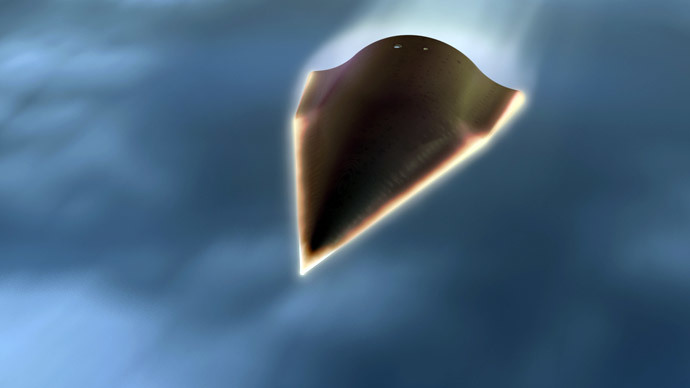 Falcon Hypersonic Technology Vehicle 2.(AFP Photo / DARPA)
China has reportedly conducted a third flight test for its new ultra-high speed strike vehicle – capable of travelling at up to eight times the speed of sound, in what experts suspect is part of the development of its strategic nuclear program.
The test flight, monitored by US intelligence services this week, was the third in a series of tests of the Wu-14 hypersonic glide vehicle—a high-accuracy, high speed projectile, reports the Washington Free Beacon. The first two were conducted earlier this year.
A Pentagon representative confirmed the test to the WFB, but declined to provide further comment.
"We are aware of reports regarding this test and we routinely monitor foreign defense activities,"
Marine Corps Lt. Col. Jeff Pool said.
"However, we don't comment on our intelligence or assessments of foreign weapon systems."
Lora Saalman, a nuclear policy expert at the Carnegie Endowment for International Peace, said China's third test of the Wu-14 in a year suggests an ongoing trend of militarization.
"Not only does this third test of the WU-14 in one year indicate that this is a priority program for China, it also suggests that U.S. historical concerns over a Chinese quantitative 'sprint to parity' in nuclear weapons are misdirected,"
she was quoted as saying in the Beacon.
Though some form of hyper-sonic weapons has existed for decades, the new missiles being developed by the US, China and others belong to a class of their own because of the
"boost-glide"
technology which enables them to travel very quickly and at a flat angle. Boost-glide weapons follow a hard-to-trace trajectory which makes them difficult to target using current missile-defense systems.
The weapons
"are launched by big rockets just like a ballistic missile is,"
explained Carnegie nuclear expert James Acton.
"But then rather than arcing higher than the atmosphere, they are put on a trajectory to re-enter the atmosphere as quickly as possible. Then they just glide to the target,"
he was featured as saying in Business Insider this fall.
Experts say hypersonic capabilities are indicative of a large scale military build-up. Mark Schneider, a former Pentagon strategic forces specialist, was quoted as saying in the Washington Free Beacon that China's latest hypersonic vehicle test poses
"a serious threat."
The US and China have been engaged in what some have dubbed a hypersonic arms race. This summer, the US tested its own hypersonic missile after China ran its second test of the Wu-14. Though both countries had successfully tested hypersonic weapons in the past, both August tests failed.
Russia, not one to stay out of the game for long, has also announced plans to build its first hypersonic missile before 2020. India, too, is involved in the development of the ultra-high speed arms.
Read the whole story
· · ·
Published time: November 28, 2014 22:07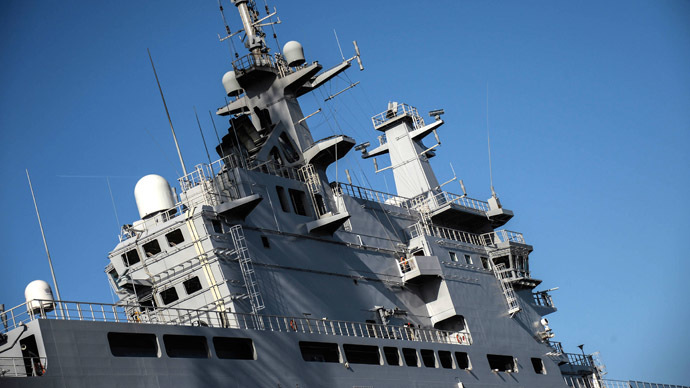 Vladivostok amphibious assault ship of the French Mistral class in the docks of SNX France. (RIA Novosti/Alexey Filippov)
Electronic equipment, including hard drives and a device operating the helicopter carrier's communications system, has been stolen off the Mistral ship built for Russia in the French port of Saint-Nazaire.
An investigation into the case of the missing equipment has been launched, French media reported. "
Sensitive material
" could allegedly be stolen from one of the amphibious-assault vessels, constructed by the French in a multi-million dollar deal with Moscow.
The items, which were announced missing on November 25, could have been stolen a week prior to that date, the prosecutor's office of the French city of Rennes reported.
According to AFP, two computer hard drives, a motherboard, and a graphics card – as well as a device with a program operating the carrier's communications system – have disappeared from the ship.
The Sevastopol, the second Mistral class amphibious assault ship, floated out in Saint-Nazaire. (RIA Novosti/Grigoriy Sisoev)
All the equipment was installed by French military electronics firm Thales, and could only be operated on the helicopter carrier.
A spokesman for French shipbuilder DCNS, Emmanuel Godez, confirmed the theft to TASS news agency, but said the unique articles – which he refused to name – did not contain any secret or sensitive data.
French ship builders STX, who are in charge of the Russian-ordered Mistral ship's construction, also confirmed that some items went missing. The company said a relevant statement had been submitted by the corporation to French police.
According to Le Point magazine, a preliminary investigation did not find any evidence of a break-in. Russians are reportedly not suspected to be behind the theft, a spokesperson from France's Defense Ministry said.
Read the whole story
· · · ·
Published time: December 01, 2014 09:44
Edited time: December 01, 2014 10:59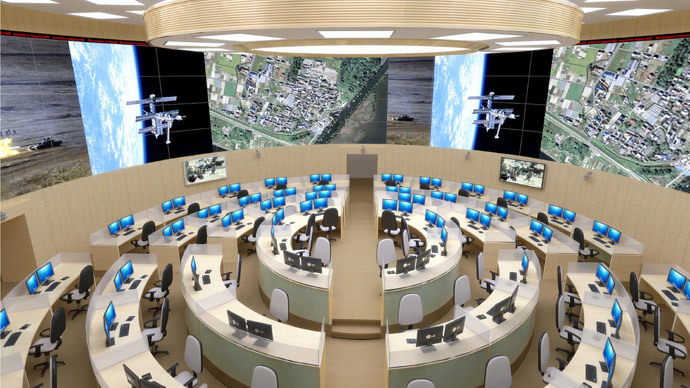 NDCC war room. Computer simulation. Image by Defence Ministy
Russia is launching a new national defense facility, which is meant to monitor threats to national security in peacetime, but would take control of the entire country in case of war.
The new top-security, fortified facility in Moscow includes several large war rooms, a brand new supercomputer in the heart of a state-of-the-art data processing center, underground facilities, secret transport routes for emergency evacuation and a helicopter pad, which was deployed for the first time on Nov. 24 on the Moscow River. The Defense Ministry won't disclose the price tag for the site, but it is estimated at the equivalent of several billion dollars.
The new National Defense Control Center (NDCC) is a major upgrade on what was previously called the Central Command of the General Staff, a unit tasked with round-the-clock monitoring of military threats against Russia, particularly ballistic missile launches, and deployment of strategic nuclear weapons. It was roughly a counterpart to the US National Military Command Center, the Pentagon's principal command and control site.
Image by Defence Ministy
The NDCC inherits all those functions, but also has plenty of extra roles as well. In peacetime, an additional task is to monitor all of Russia's important military assets, from hardware being produced by defense contractors to the state of oil refineries, to weather conditions and their effect on transportation routes.
And if Russia does get into a war, the center would act as a major communication hub and a form of wartime government, delivering reports to the country's military command and giving orders to all ministries, state-owned companies and other organizations, according to the needs of the armed forces.
"The creation of NDCC was one of the biggest military projects of the past few years. The closest analogy in the past in terms of functions and tasks was the Commander-in-Chief HQ in 1941-45, which centralized all controls of both the military machine and the economy of the nation in the interests of the war,"
Lt. General Mikhail Mizintsev, the NDCC chief, told Lenta.ru in an interview.
Lt. General Michail Mizintsev. Image by Defence Ministy
The military says the upgrade has been long overdue. The national security situation may be very fluid in modern times, and instead of days the leadership may have only an hour to take crucial military decisions. The center's job is to offer the Defense Minister and the President options in case of emergency, which would be based on facts, figures and accurate projections.
Potentially the biggest part of the upgrade was the creation of communication and data processing equipment that would give the military computer power and software needed to factor in hundreds of parameters in their mathematical models. The Defense Ministry had to use only domestically-produced hardware due to security considerations, which limited its options.
According to officials, the result is a very robust computer network with state-of-art data encryption and multiple backup sites spread throughout the country, which would keep the center functional even if its main facility in Moscow is damaged by an enemy attack or sabotage.
Image by Defence Ministy
The center employs over 1,000 officers working on a rotating watch system. Mizintsev said the armed forces selected their best officer for the posts, many of which are new for the Russian military and require skills not previously taught to officers on a regular basis until recently. They have been operating in trial mode since April.
A thoroughly military facility, the NDCC has an unexpected civilian component to it. Its location in Moscow is close to two major hospitals, including the Pirogov trauma center. Both hospitals are quite old and their original designs didn't provide for dedicated helicopter pads.
The Defense Ministry said the medics can share NDCC's new pad on the Moscow River for emergency patient transportation. The pad can accommodate helicopters weighing up to 15 tons, enough to land a Mil Mi-8, world's most-produced transport helicopter, or a Mil Mi-38, its designated replacement.
A Topol-M ballistic missile (RIA Novosti / Vitaliy Belousov)
Read the whole story
· · · · · · · ·
Next Page of Stories
Loading...
Page 4